3 Things I Learned from Moms' Ultimate Guide to the Tween Girl World
Raising girls is just a little scarier, harder, and even more amazing than I used to think.
Apparently, a lot of moms feel the same way I do. 
As a blogger, pastor's wife, and plain old Mom, I get asked for "mom book" recommendations pretty frequently.
(I feel really blessed to get to share about the cream-of-the-crop reads I discover here at the blog!)
The book I'm going to tell you about in this post is one of the top books I've read on parenting in a long time. 
If you're raising tween girls, please read on.
This one's for you!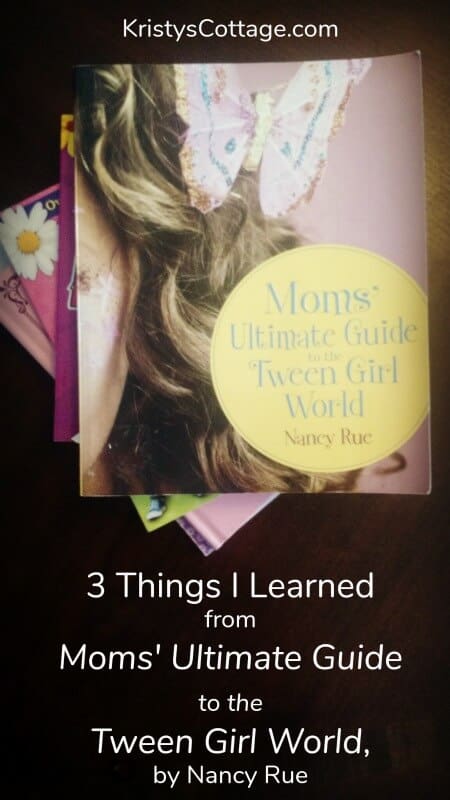 I found a copy of Mom's Ultimate Guide to the Tween Girl World, by Nancy Rue, at a Christian book store last year.  
Honestly, I picked it up for three (kind of silly) reasons:
[wc_box color="inverse" text_align="left" margin_top="" margin_bottom="" class=""]
#1 It was marked down to five bucks.
(That was the main reason!)
#2 I thought the cover was pretty.
(I know, I know… don't judge a book and all that.)
#3 My daughters love the author's books for tween girls. 
(Smart reason, right?)
[/wc_box]
Here are three things I took away from this book:
1. Just Enjoy Your Girls 
I'll be honest:
I'm the world's worst for over-thinking everything, and making life a really complicated, big deal. 
This is certainly true of parenting because, well, parenting really is a big deal!
It doesn't seem like so many days ago that I was stressing over first foods, potty training, and sleeping through the night. 
And now?
I'm stressing over cell phones, girl drama, and mood swings.
These days, potty training doesn't sound like such a huge deal!
But it was a really huge deal (in my mind) when my girls were little.  Since then, I've moved on to over-thinking other huge deals.
Honestly, I wanted to cry when I read this from Nancy's book: 
[wc_box color="inverse" text_align="left" margin_top="" margin_bottom="" class=""]

Above all, enjoy her.

The best way to instill a love for who she truly is- is simply to show her that she is truly adored.  That you treasure her precious self.  That you are delighted with who she is, no matter who she is.

[/wc_box]
If ever I felt like an older, wiser mom had pushed me into a comfy chair, put her hands on my tense shoulders, looked me in the eye and ordered, RELAX! it was when I read those words. 
Nancy shares fun activities to do with your tween daughters, conversation prompts, date ideas and lots of other practical info in the first few chapters of this Moms' Ultimate Guide.
Speaking for myself, I've been a lot more intentional about enjoying my girls after sitting down with this book and a good cup of tea. 
2. Listen… and Stop Lecturing 
Oh, friends.
I am a grand lecturer. 
I can think of a solution to every problem.  
I even have the unique talent of pointing out problems to unsuspecting people (read: daughters) who just can't see the obvious.
This is not an endearing quality.  According to a certain thirteen year old, anyway. 🙂
As a mom, sometimes it's really  hard for me to just sit back and listen.
Doing this typically requires intentionally putting away distractions (smart phone, anyone?), ignoring the "to do" list for a few minutes, and swallowing back all those great solutions… and allowing myself to be part of my daughter's world.
It's amazing how much tween and teen girls will clue you in on their world if they feel like you are a safe and interested listener.
Does that mean I don't ever give advice or instruction?
 Not on your life. Those are important Mom roles too.
But a lot more listening and a little less talking has been a good change for me.
3. Respect Your Daughter
This may seem like a silly point on a blog post about parenting tweens. 
I mean, aren't kids supposed to respect their parents?  Of course. 
But respect is a two-way street.
I'll be honest, it really bothers me when I see parents (moms especially) treat their budding daughters like they have no minds, personalities, or privacy of their own.
Moms, we need to treat our growing daughters with the same kind of respect that we expect from them.  They are mini women, after all.
Respect their changing bodies.
We need to be careful not to make embarrassing remarks about their physical appearance.
Don't compare them with other girls.
Respect their personal privacy.  
I generally always knock on my girls' bedroom door before I open it.  Why?
Because that's the way I've asked them to treat the other members in our household.
Respect their confidences.  
It's not okay to tell their secrets, or bring up something at the dinner table when they previously told us in private.
Parents are not exempt from the respect rule. 
In parenting tweens and teens, it might just be one of the Golden Rules.
I could write another three or ten "loved" and "learned" points from this book.
I really did enjoy it that much.
In fact, this is the book that I reach for often, when I need a little inspiration, guidance, or practical advice for raising my girls.
If Moms' Ultimate Guide to the Tween Girl World sounds like something you'd like to read too, you can check it out on Amazon.
In fact, I just added it to my Amazon shop here at the blog.
{You can take a peek right here.}
---