This post: Your guide to want-need-wear-read ideas + a printable Christmas wish list.
Looking for four gift rule ideas for Christmas gifts?
Great! because that's exactly what this blog post is about.
In fact, here's a sneak peak at what I have for you:
a pretty awesome gift guide (lots of 4 gift rule ideas for kids + teens)
a cool place for you to buy some festive want-need-wear-read tags
a free printable Christmas wish list for your kids
But first, let me take a second + explain the Four Gift Rule idea.
Why just 4 gifts for Christmas? And why is there a rule about it?
Well, I'll just say right now: I don't call it a "rule." (Who wants a rule about Christmas gifts, for crying out loud?)
For us, it's a tradition. It's something our family enjoys (yes, even the kids), and something we've observed for many years.
And in case you're new to this blog, I'll tell you why. (It all comes down to the fact that I really like lists + keeping things intentional.)
How we got started with the the Four Gift Rule.
To sum it up, I needed to streamline the "bigs" and "tinys" in my life.
For starters, the big family. We are a family of seven (three teens, a preteen, one younger boy, hubby, and me). My husband is a pastor and I'm a homeschooling/work-at-home/ homemaker. And that brings us to the first "tiny."
Tiny budget. Okay, maybe not tiny. But smallish. You know, one-income-ish.
And did I mention the part about all seven of us living in an early-20th century, 1800-square foot remodeled farm house? That's the second "tiny." As in, tiny closets. (read: no room for stashing tons of presents unil I get around to wrapping them all)
So with all the "bigs" and "tinys" in my life, I needed something to help make Christmas gift-giving affordable, doable, and enjoyable.
You see, I'm a gift-giver by nature; I don't like heavy rules or skimpy budgets when it comes to giving gifts to people I love. (And I don't love tiny closets.)
So I stumbled upon this idea of giving 4 gifts for Christmas when my kids were little.
Now, I won't lie: I love making lists almost as much as I love giving gifts.
So the idea of a very specific Christmas gift list, PLUS giving presents- well, I converted immediately.
Why this "rule" is a keeper.
Over the years, the 4 gifts for Christmas rule has done a few good things for me as busy mom, including-
making my Christmas shopping more enjoyable (because I know exactly what to buy for my kids)
streamlining our holiday budget (I can spend the money where it counts)
making gift giving even more meaningful (because my kids aren't getting a lot of "stuff" they don't want or need… and yet the closets are still overflowing… I must ponder this)
The main reason we stick with it every year is because my kids really love it. Every year, they start thinking about their want-need-wear-read ideas; and every year I print this cool wish list + we start Christmas shopping.
It really is a fun tradition.
How it actually works.
The 4 Gifts for Christmas rule is simply a template for helping you shop smart for your kids at Christmas time.
The really beautiful thing is that it pulls your kids into the process of choosing the best gifts. It really is a win for everyone!
The 4 gifts for Christmas are:
Something I Want.
Something I Need.
Something to Wear.
Something to Read.
That's it!
Well, almost. Another tradition that our family loves is opening stockings on Christmas Eve, so of course our kids get their share of "stocking stuffers" too.
But as far as gifts that go under the tree, 4 Gifts for Christmas nails it.
Want-Need-Wear-Read Printable Wish List
I've created a printable wish list for your kids! This is the same one my kids use every year; all you need to do is drop your name + email below, and then go check your email. You can download + print your want-need-wear-read wish list right away.
I hope this simple printable gives you permission to take the stress OUT of Christmas gifting… and rediscover all the joy in it. xo
Want-Need-Wear-Read tags
I have a gift guide for you, but first I want you to take a look at these.
I just love these want-need-wear-read tags! Such a fun Christmas gift tag idea. I ordered a few sets for my kids' presents this Christmas + just had to share.
Now let's get to that fabulous Christmas gift guide I promised you.
Of course, your kids will tell you exactly what they want/need/wear/read for Christmas. xo These are just ideas I curated from my own kids' Christmas lists. I'd love to hear your ideas too! Drop a comment at the end of this post.
#1
Something I Want
This single gift prompt is what most families make Christmas all about. But why not simplify things a bit and request one thing on the "want" list?
In our family, this is my husband's department. One of Jeremy's traditions is to take our kids shopping (usually very close to Christmas Eve) so they can pick what they want from Dad for Christmas.
My kids look forward to this every year!
But no matter who's doing the shopping at your house, ask your kids to tell you one thing they want- then put it on the list. Trust me, this is so freeing!
Ideas for something I want:
A phone.
Our younger teens use and love the Gabb Wireless phones.
These phones have unlimited texting, fun phone cases, a great camera, a music app- but no internet access.
If you want a phone that's truly safe for your preteen or teen, check out Gabb Wireless.
(Use promo code KRISTY10 to save 10% off your purchase.)
This item made my oldest teen's "want" list this year.
RipSticks are all the rage right now among teens and preteens, so I'm sure this won't be the last one we buy. (Maybe I should go ahead and price around for physical therapists!)
Musical instruments
This year, one child asked for a guitar and another asked for a ukelele.
Our youngest enjoyed this instrument set from Target when he was a preschooler.
(I have yet to allow a child to request a set of drums.)
Legos and Playmobils
Legos and Playmobils are by far the most requested gifts by my boys, ages 13, 11, and 8.
Come to think of it, this is probably why our closets are over flowing.
Here are a few of my boys' favorite sets from the past few years:
(I have some big time Star Wars fans!)
Star Wars X-Wing Starfighter starship
Rise of Skywalker Resistance A-Wing starship
Star Wars: Revenge of the Sith Duel on Mustafar
Last Jedi Elite Praetorian Guard Battle Pack
Camping Adventure carrying case set
Fitbit Alta
Our 17-year old wears the Fitbit Alta, and also recommends this 12-pack of colored bands.
Apparently, this particular fitness tracker is especially streamlined and chic for girls.
For dudes, check out the Fitbit Sense or Versa 3… or, since this is a gift list for kids, the Fitbit Ace 2.
Jewelry
Like most teen girls, my 17 and 14-year old daughters love jewelry.
We've been especially impressed with the selections from Hazel Threads, an online boutique.
They offer a lovely selection of necklaces, bracelets, tee shirts and home decor.
Use promo code KRISTYSCOTTAGE to save 20% off your order at Hazel Threads, including clearanced items.
#2 Something I Need
Depending on the ages and interests of your kids, "something I need" ideas might include:
Sports equipment
My kids have enjoyed receiving sparring gear, a kids' size football, ice skates, kids' camping gear, a gymnastics mat and new bikes or scooters.
Bedroom Decor
For girls, this make-up organizer made the "need" list this year.
A few years ago, my youngest daughter and niece absolutely loved this mermaid tail blanket.
All five of my kids love new bedding for Christmas, and last year Beddys became an all-time favorite.
Other bedroom decor: a comfy bean bag, a reading lamp, or wall art (our oldest daughter, a Blue Belt in American Karate, asked for these last year).
Art Supplies
Art supplies pretty much always appear on my kids' Christmas wish lists, or stocking stuffer requests.
For artsy teens, check out Copic markers, this Covacure colored pencil set with cool canvas bag, these leather notebook journals, a Canon camera (this is a big ticket item, but a great investment for a teen who's serious about photography).
Our youngest child enjoys these art supplies: Aqua Doodle Mat, Fizzy Paint watercolors, tracing paper, finger paints, coloring books and Crayons.
#3 Something to Wear
Who says kids don't like getting clothes for Christmas?
My kids have yet to complain about the "something to wear" section of their wish list.
Sports jackets and polo sweaters are popular among my boys.
My 17-year old enjoys hoodies and dresses from NeeSees Dresses, while her 14-year old sister prefers shoes and outfits from Shein.
Of course, "something to wear" isn't just clothes.
Shoes, belts, purses, and other accessories can make the list too. (Okay, and socks and underwear.)
A few ideas:
A new pair of Vans or Converse.
A teen-friendly Steve Madden purse, like this; a sparkly pink backpack purse, like this; or a surprisingly affordable Kate Spade "stack of classics" tote, like this.
#4 Something to Read
This is probably my favorite part of our "4 gifts for Christmas" tradition. I absolutely adore books and am so happy that most of my kids do too. (I'm still working on that one kid.)
For littles who aren't reading yet, I often opt for picture books (to read to them), or something educational and fun instead of "something to read."
(I have an entire blog dedicated to books, by the way. Check out my reading guides at Simply Good Reading for book ideas.)
A few gift ideas for non-readers: Magnetic Letters & Numbers Board (our youngest son loves his set), coloring books and Crayons, or sticker books.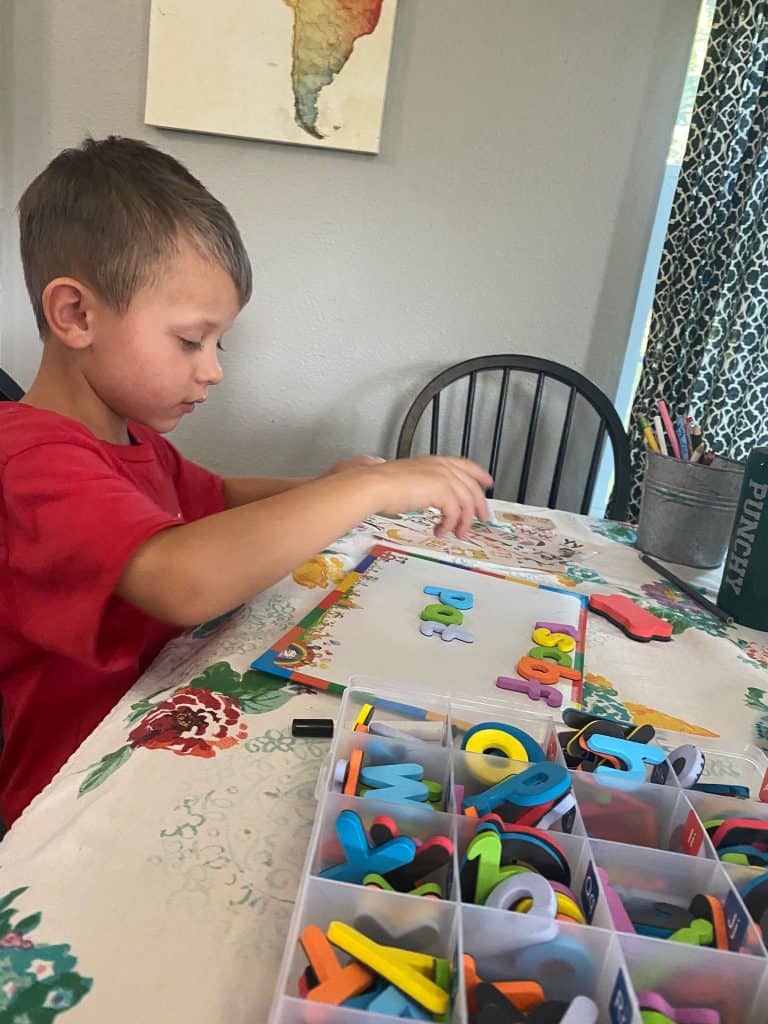 Favorite books my kids ask for on their "something to read" lists:
Adventure:
The Green Ember books, by S. D. Smith
Nathan Hale's Hazardous Tales, by Nathan Hale
Castaways of the Flying Dutchman series, by Brian Jacques
The Shiloh series, by Phyllis Reynolds Naylor
The Boxcar Children Mysteries, by Gertrude Chandler Warner
Classics for Kids:
Paddington Classic set, by Michael Bond
Classic Starts series, various authors
Chester Cricket and His Friends books, by George Sheldon
Girls:
The Baby-Sitter Club Graphic Novels, by Ann M. Martin
Teens:
The Four Loves, by C. S. Lewis
The 7 Habits of Highly Effective Teens, by Sean Covey
The First 24 Hours: How to Learn Anything… Fast!, by Josh Kaufman
And that wraps up my Christmas gift ideas for kids, and why you really only need four gifts for each kid for Christmas.
Have I convinced you?
Your Turn.
Have you ever tried the 4 Gifts for Christmas rule? Drop a comment and let me know.
About the Author
Latest Posts
Kristy Lynn is a wife, mom, editor + content creator from the Fort Worth area. Unless she's lost in a pile of books (or dirty laundry), you'll likely find her reading, over-thinking, or chauffeuring her kids somewhere. Kristy hates sleeping + cooking. (Necessary evils.) However, British accents, old churches, hiking trails, and debates never fail to entertain. She accidentally buys too many clothes and find typos everywhere. Connect with Kristy on FB + IG @simplykristylynn.