6 Must-See Places When Visiting Fort Worth
Thinking about visiting Fort Worth?
I think you'll love Cow Town- I know I do!
Our family moved to Fort Worth in 2011.
I enjoy the rich history of our city, and how my husband's cattle-loving heart can explore and soar right here in Cow Town USA.
The sites to see are pretty much unlimited in an area as big as Fort Worth, but Jeremy and I have discovered a few favorites over the years.
In this post, I'm sharing six must-see places that are family-friendly, historical, or even free.
These places will make great vacation spots for your family this summer, and they're totally worth the drive even for a romantic weekend getaway with you and your husband.
Most of these places are free to visit, so they'll definitely fit the vacation budget.
If they're not freebies, then I assure you I feel like they're totally worth the money, or they wouldn't have made the list.
If you find this post helpful, will you please hit a "share" button?
Fort Worth Water Gardens 
Have you ever been to a water garden?
It's a beautiful experience!
The Water Gardens at Fort Worth are an architectural muse, not to mention a peaceful and refreshing oasis... and, yes, there's lots and lots of water!
Located near Sun Dance Square (see below) in the cultural district of Fort Worth, the Water Gardens are easily accessible and easy to find if you're enjoying a day out on the town.
It's a free park, and very worth stopping by to visit!
Find more information here.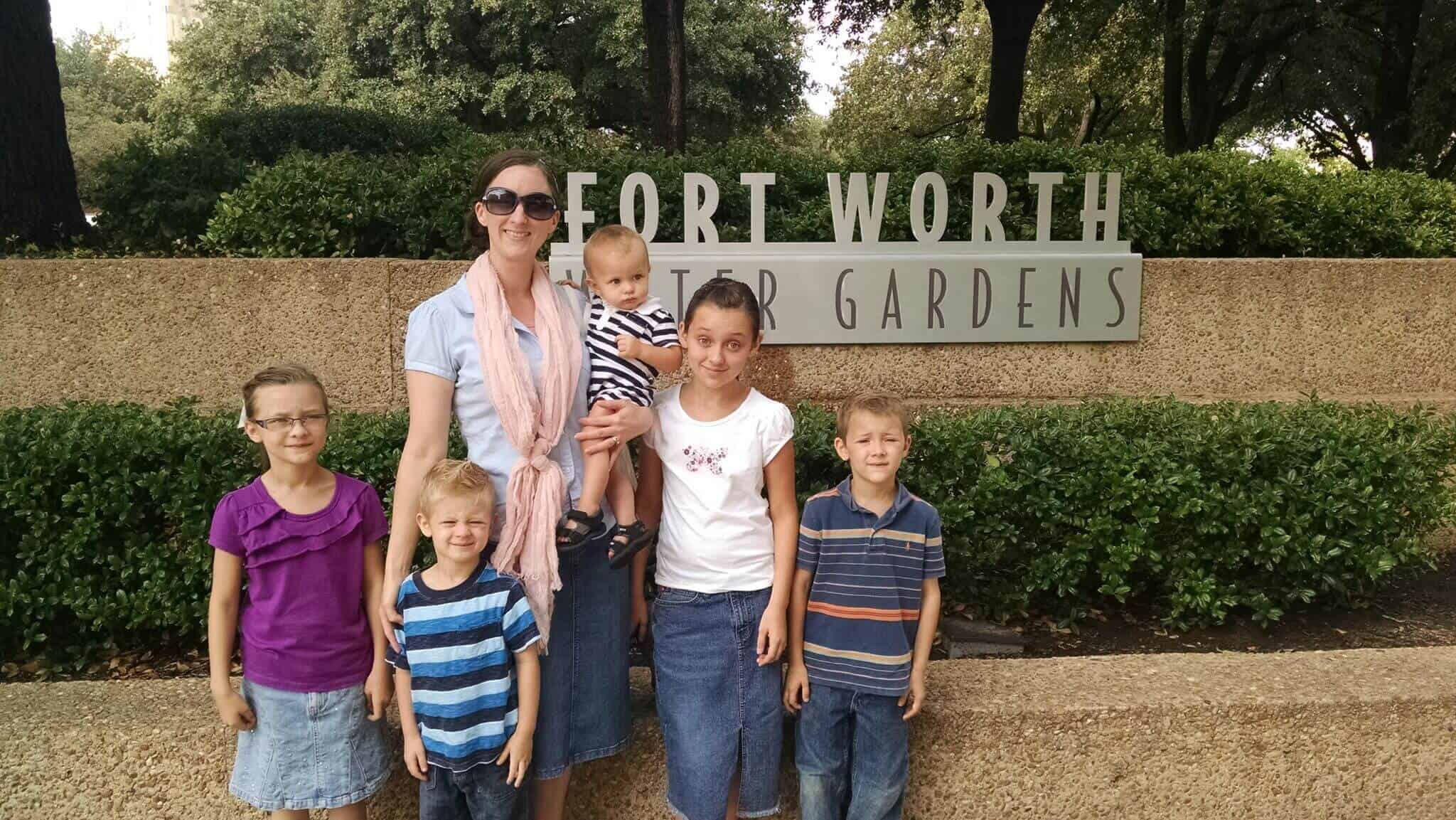 Sundance Square
Sundance Square is one of our family's favorite places to visit in down town Fort Worth!
In the summer, our kids enjoy the water fountains at "the plaza," and at Christmas time the annual tree lighting is a fun holiday tradition.
Sundance Square is flanked by dozens of boutiques, restaurants, coffee and smoothie shops, and just about anything else you can think of.
There's no cost to visit this area… just enjoy yourself!
You'll find more information about Sundance Square in Fort Worth right here.
Fort Worth Botanic Garden
The Botanic Garden in Fort Worth is a definite must-see if you're visiting the area!
The beautiful gardens are spread over one hundred acres, and feature over two thousand native and exotic species.
You'll find something blooming in every season of the year.
A fun feature at the garden during summer time is the annual "Concerts in the Garden," featuring the Fort Worth symphony.
The Botanic Garden now charges a small admission for visitors.
You can find more details here.
The Stock Yards
This was my very first introduction to Forth Worth!
Our family visited Fort Worth on the weekend of my 30th birthday, and since I'd never experienced the historic stock yards Jeremy took me down town for my birthday. I was intrigued!
Several times per day, a mock "cattle drive" parades down main street, giving visitors a glimpse of how the cow boys herded their cattle on the long trek from Texas to Kansas during the cattle drives in the early 1900's.
This is a free event; just make sure you show up at the right time so you don't miss it!
More information at FortWorthStockyards.org.
Fort Worth Zoo (and Trinity Park)
Our family visits the Fort Worth Zoo about once-a-year, and we enjoy it every time.
Not surprising, this zoo is BIG, with lots of exhibits and always-changing-features.
Do you want to know what my favorite thing about the Fort Worth Zoo is?
There's lots of shade, which means that even in the dead of summer, it's not too hot!
In Texas, that's a really important factor.
The Fort Worth Zoo is located in the cultural district of Fort Worth, near scenic Trinity Park.
If you're in the area, make sure you don't miss Trinity Park! The acres and acres of Live-Oak-arbored walking tracks are beautiful.
Find out ticket information for the zoo at FortWorthZoo.org.
More info on Trinity Park right here.
Bass Performance Hall
I saved this one for last because it's my very, very favorite place to visit in Fort Worth!
Bass Hall is situated in the heart of historic down town Fort Worth, and it's arguably one of the most beautiful buildings in the city! (At least, in my opinion.)
This historic performance hall is a hub of culture, music, and top-notch plays and dramas of every kind.
Our personal favorites so far include The Sound of Music, The Nutcracker, the Fort Worth Symphony and the 2017 Cliburn Competition.
Sadly, admission to Bass Hall is not free!
Tickets range anywhere from a few dollars to hundreds of dollars, depending on what show you're watching and where you want to sit.
I've sat in a variety of seats, and they each have provided an excellent view of the stage. So it's safe to go with the cheap seats if you need to; trust me, it's totally worth the money to experience Bass Hall!
Directly across the street from the performance hall are The Cheesecake Factory, Corner Bakery, and Embassy Suites Hotel, so accommodations and food are literally a few steps away.
This is one of Jeremy's and my favorite weekend getaways!
Details about tickets and performances at BassHall.com.
Have you ever visited these places in Fort Worth?
I hope you enjoy our beautiful city… leave me a comment and let me know what you would add to this list!
Here's to living well-
xoxo,
Kristy
P.S. Thanks a million for sharing this post!