This post: Fun Bible devotions for kids.
Looking for a devotional for kids? I have good news: I've got five kids and a list of the best family devotional books.
(In my humble opinion.)
The recommendations in this post are books that I love, my kids love, and I think you will love, too.
It's not an exhaustive list; but it is a list of both picture books and chapter books which are Biblical, engaging, and beautiful.
Because introducing our children to truth, goodness, and beauty is an essential part of helping them know and love God, isn't it?
Book List: Devotions for Kids
As you read through my book recommendations here, please keep this in mind:
—> I have not read all of these books from cover-to-cover, to all of my kids.
Some of these books have been well loved (as you'll see from the photos!) and read multiple times.
I've simply read from other books, as needed.
Don't guilt-trip yourself over having family devotions. The fact you're even sitting there reading this tells me that you're doing a great job raising your kids and that you care.
And don't guilt-trip your husband if he's not involved in family devotions, or not as involved as you want him to be.
Guess who reads these books with my kids?
I do.
Pretty much all of the Bible devotions for kids over the years have taken place during our Morning Time on homeschool days.
(If you're not familiar with Morning Time, please read this and check out my Morning Time routine with my kids.)
My husband (who is a pastor) has family devotions with us (he likes this book) several nights a week, and we love that too.
But, Mama, don't be afraid to take the lead on this. You likely spend much more time with your kids than your husband does, especially if you home educate.
Embrace that time and just enjoy introducing your sweet littles to the beautiful love of Jesus.
Devotionals for Kids Of All Ages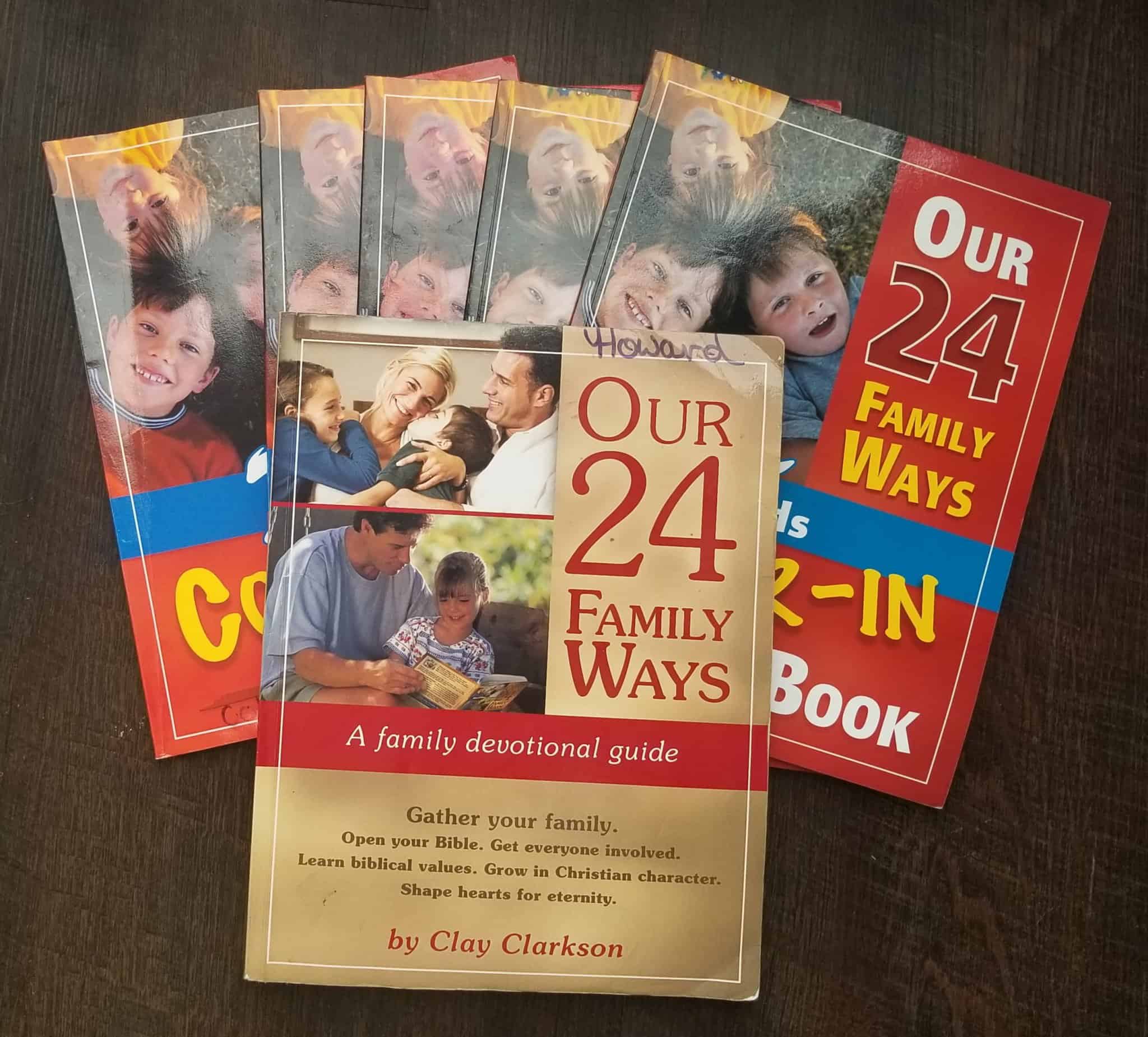 I discovered Our 24 Family Ways at a women's conference with Sally Clarkson when my kids were much younger.
It really is one of the best kids devotional books.
My kids especially enjoy the coloring book that correlate with the devotional; there's a coloring page for each week's devotion.
If you consistently read from this book every week, for five days a week (which I don't), it would last you at least twenty-four weeks.
—> Find Our 24 Family Ways on Amazon.
Devotions for Preschoolers
Big Thoughts for Little People: ABCs To Help You Grow features quick devotions for kids that begin with letters of the alphabet.
The devotions include delightful pictures, a Scripture, and topics like "asking," "helping," and "kindness."
—> Find Big Thoughts for Little People on Amazon.
I Want To Be Just Like Jesus is a Bible storybook which features stories that showcase character traits of Christ: "Jesus was caring," "Jesus had compassion," and "Jesus was generous."
Each devotion includes a "Jesus in the Bible" and "Jesus in Me" feature.
I reviewed I Want To Be Just Like Jesus for Tyndale House Publishers; you can check it out at HipHomeSchoolMoms.com.
—> Find I Want To Be Just Like Jesus on Amazon.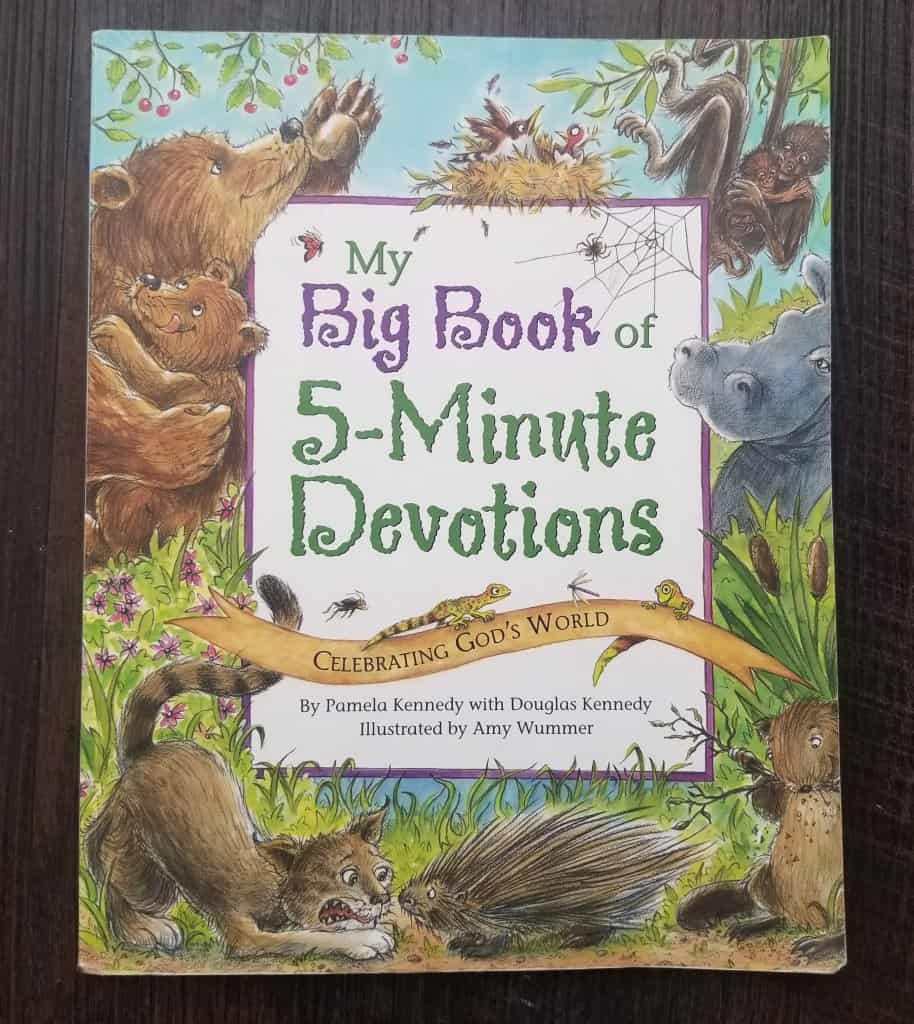 My Big Book of 5-Minute Devotions celebrates God's creation with a two-page story a different animal.
If you have a nature-loving child, this book will be a favorite!
—> Find My Big Book of 5-Minute Devotions on Amazon.
Devotionals for Kids: Elementary-Age
These books make great devotion-time read alouds for kids of all ages, but they were especially suitable for my young school-age children: from ages six or seven up to ten or so.
My daughter read Heroes of Faith when she was eleven or twelve years old, so it's definitely suitable for older kids too.
Hero Tales: A Family Treasury of True Stories From the Lives of Christian Heroes is a biographical-style chapter book which highlights men and women of faith.
The chapters include stories about forty-five famous missionaries and historically Christians, including David Livingston, Amy Carmichael, Harriet Tubman and Martin Luther.
—> Find this Hero Tales volume, and other collections by the same author on Amazon.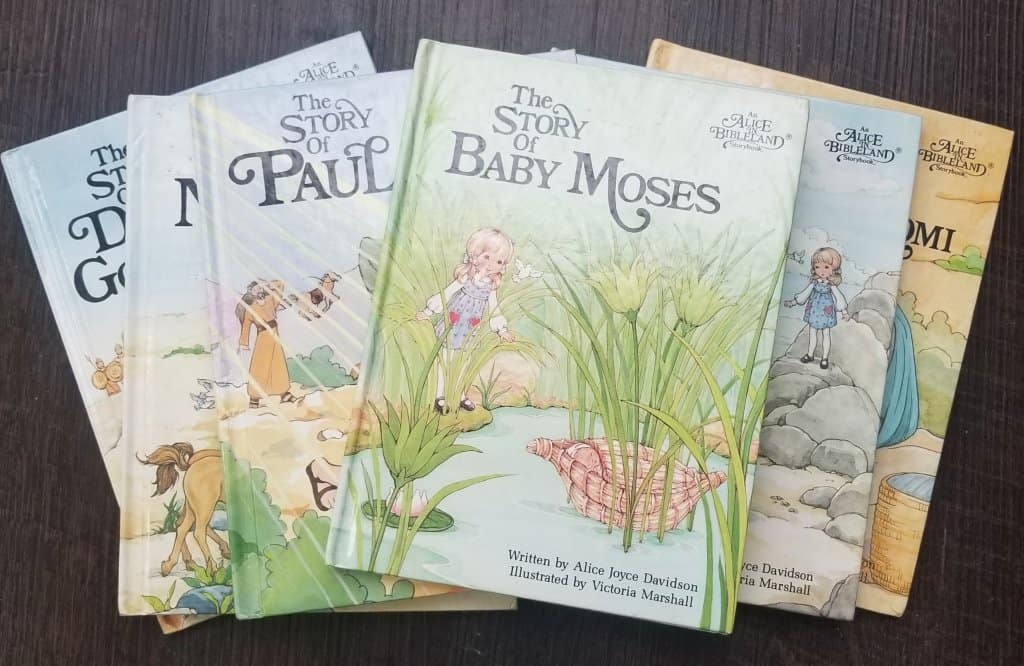 The Alice in BibleLand story books were my oldest daughter's FAVORITE books as a little girl. These are delightful little books!
Each book tells the story of a Bible character (Noah, Paul, Ruth, etc), as seen through the eyes of young "Alice" (who travels back to Bible times and watches the story unfold).
The stories are told through engaging poems… a great way to expose your kids to rhyming words, along with Bible stories.
—> You can find many Alice in Bible Land books on Amazon.
Pilgrim's Progress and The Incredible Journey. Both these books are Christian classics that my kids have loved.
I personally love The Pictorial Pilgrim's Progress, which is edited for younger readers (listeners).
My young kids especially enjoy the picture book version, The Dangerous Journey.
—> Find Pilgrim's Progress on Amazon.
Children's Bible
I'm a fan of the Discoverer's Bible, which is a large print Bible for young readers.
As a family, we read and memorize the King James Version; however, the NIRV (New International Reader's Version) is delightful for kids.
—> Find The Discoverer's Bible on Amazon.
Are you already an Amazon Prime member?
If so, you'll get free shipping on each of the books I linked to in this post.
—> If you're not already a Prime member, you can get a free, 30-day trial right here.
—> For further reading, check out my post at HipHomeschoolMoms:
What would you add to this list of family devotional books?
P.S. Thanks a million for sharing this post!
About the Author
Latest Posts
Kristy Lynn is a wife, mom, content creator, + modern homemaker from the Fort Worth area. Unless she's lost in a pile of books (or dirty laundry), you'll likely find her writing, over-thinking, or chauffeuring her kids somewhere. Kristy hates sleeping + cooking. (Necessary evils.) However, British accents, old churches, hiking trails, and debates never fail to entertain. She accidentally buys too many clothes and finds typos everywhere. Connect with Kristy on FB + IG @simplykristylynn.