Eco Friendly Nail Polish + 5 Steps to an Affordable, Non Toxic DIY Mani Pedi
This post: The BEST eco friendly nail polish for your at home mani pedi.
I love a professional mani pedi. In fact, nothing is quite as relaxing for me as an afternoon spent in a spa, getting my nails done while I sit in a chair + do absolutely nothing.
Unfortunately, a day at the spa doesn't often work for me. Here in Fort Worth, a basic mani pedi costs about $75 + means sitting in a salon for at least two hours. If you want to upgrade to a nail salon that uses eco friendly nail polish, you can count on spending even more money.
The Most Affordable Mani Pedi…
Of course, the most affordable mani pedi is the one you do yourself, right?
I crunched the numbers for giving myself a non toxic mani pedi, using quick drying, eco friendly nail polish. Did you know you can do an at home mani pedi for about $25 – $40, depending what you products already have on hand?
The really good news? Once you buy a few products, you've set yourself up for FREE mani pedis + a relaxing DIY self care routine.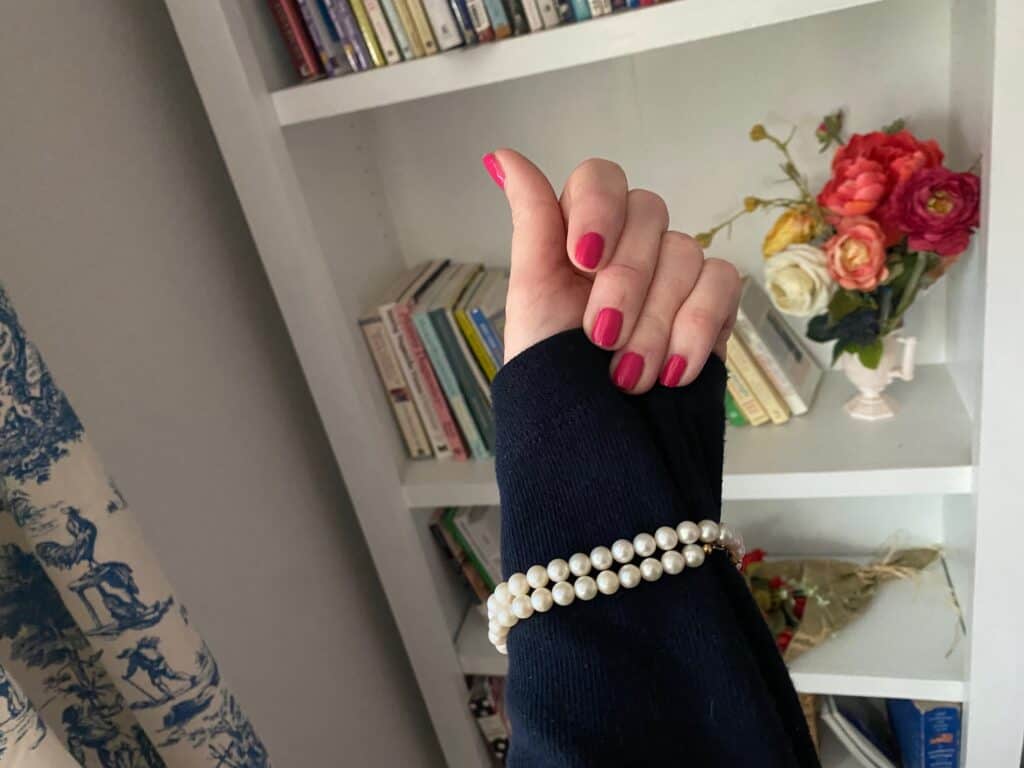 Eco Friendly Nail Polish That Actually Works
When I decided to take the plunge and try an at home mani pedi, I knew I wanted to use an eco friendly nail polish. Unfortunately, finding something that gave consistent results turned out to be harder than I thought.
I tried lots of different non toxic nail polish brands + most of them were runny, hard to apply smoothly, took forever to dry, or chipped/peeled right away.
After lots of trial + error, I landed on Mineral Fusion – a "clean" makeup brand that offers a huge line of beautiful, eco friendly nail polish colors. I was pleasantly surprised at how beautifully my at home manicures turned out with this polish! It goes on smoothly, doesn't streak, isn't runny or too thick, has very low odor, dries quickly, and lasts about a week without chipping. I was sold!
These days, I typically always give myself a mani pedi at home. It isn't nearly as complicated as I used to think, and my nails always turn out exactly how I want – without the extra time, money, and chemicals.
Here Are 5 Easy Steps to Giving Yourself a Non Toxic Mani Pedi at Home
Tip: Turn on a podcast, movie, or playlist while you do your nails!
1) Soak Your Hands + Feet
I used to skip this part because I was in a hurry, but that defeats the purpose of getting a mani pedi – which is to relax! I've also noticed that my at home mani pedis turn out so much better when I take the time to soak my hands + feet first.
So fill a tub with hot water + a squirt of Dr Teal's Rose Foaming Bath Milk, and start soaking!

I love Dr. Teal's Bath Milk + can't recommend it enough. It's affordable, easy to find at Walmart or on Amazon, and will elevate your mani pedi experience considerably.
2) Take Care of Your Heels
I don't know about you, but I wear sandals + slides a lot during the summer + my feet can get pretty rough. To keep your feet pretty, gently scrub your heels with a pumice rock once your feet have soaked a bit in the warm water.
Scrub just enough to soften + smooth your skin. If you haven't had a pedi in a while + your feet are calloused, it might take a few times to soften them up. Don't over do it!

Budget tip: Don't spend more than $2 on a pumice stone. I like this set from Amazon.
3) Clean Your Nails Really Well
Once you've soaked + scrubbed your skin, it's time to focus on your nails. Clean, buffed nails will polish better, so take some time with this step.
First of all, remove any old polish from your finger nails + toe nails. This is where I fall off the non toxic wagon. Sadly, I've yet to find an eco friendly nail polish remover that actually works. Right now, I use this acetone polish remover, which is cheap + easy to find. It effectively removes just about any type of nail polish.
Pat your clean hands + feet dry.
4) Trim + Shape Your Nails
Now it's time to finishing setting your nails up for a beautiful mani or pedi. Don't skip this step!
Once your nails are clean, use a good pair of clippers to gently trim them to your desired length. Think about the shape you want – straight across, or slightly rounded? Then trim accordingly. File to perfect the shape + smooth out any rough edges.
Now use an orange stick or similar tool to gently push your cuticles. Trim any "hang nails."
Apply a moisturizing lotion, if you like, and a bit of coconut oil to the beds of your nails.

Budget tip: If you need a few tools for your mani pedis, check out this $4 stainless steel kit from Amazon.
5) Polish + Dry
Now it's time to polish! (I typically start with my feet, then while my toe nails are drying I give myself a manicure.)
Lay out your nail polish for easy access. If you're using an eco friendly nail polish brand like Mineral Fusion, you shouldn't have to worry about odors; but it's probably a wise idea to make sure you've got good ventilation.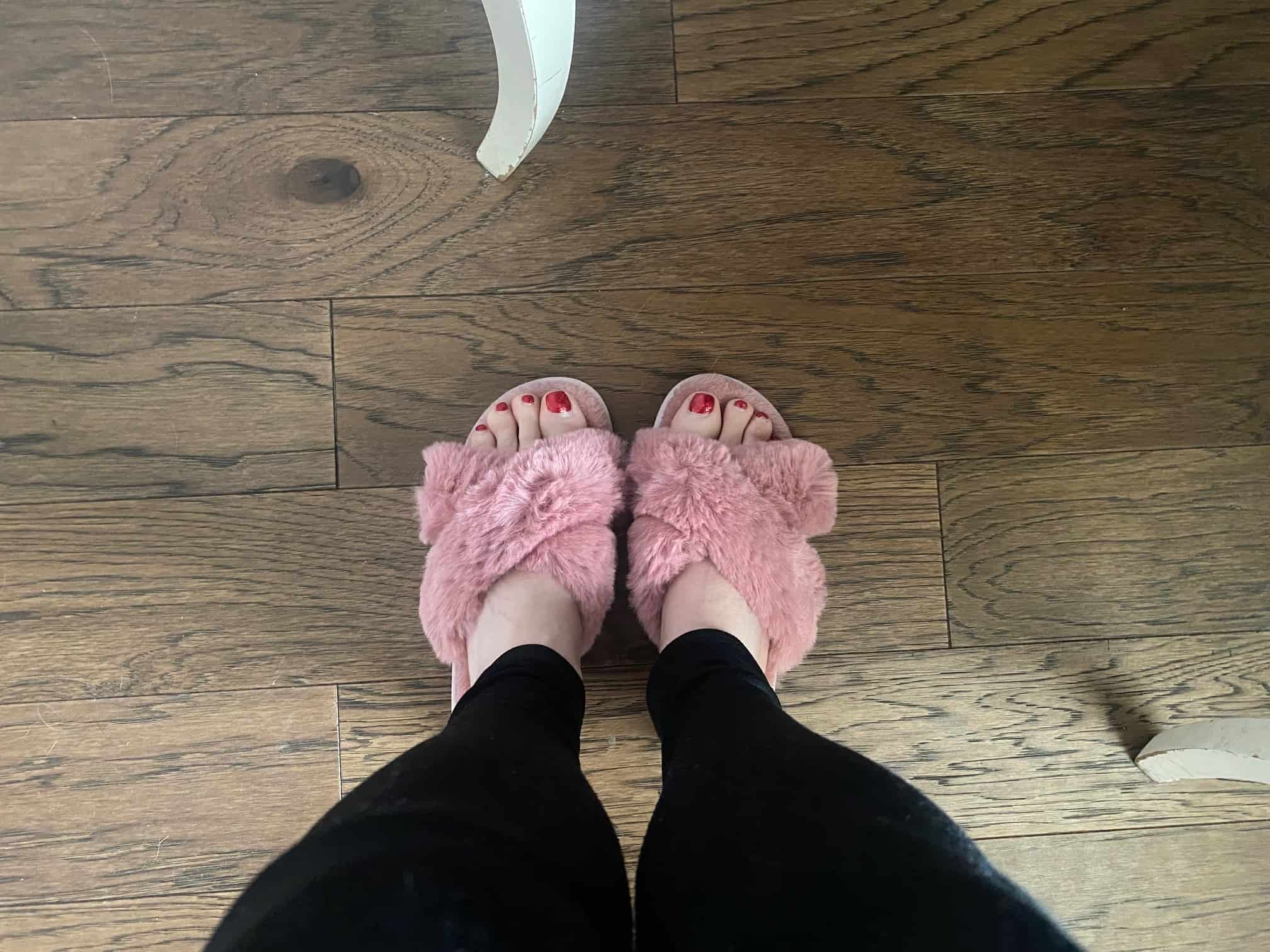 Start with a base coat (try this one from Mineral Fusion.) I find that polish sticks better + lasts longer when I take the time to use a base coat.

Apply polish. It took me many, many attempts to master the art of putting on nail polish! What works best for me is to place the polish wand just above the beds of my nails, and use upward strokes. This avoids streaking + generally goes on smoothly. If you're using a good quality eco friendly nail polish, two coats should do the trick.
End with a gel top coat. A quick drying polish should be ready for the top coat within seconds, but give it a minute or two to dry if it still looks a bit sticky. Once the polish has "set" sufficiently, apply a single, smooth coat of gel top coat. This step really "seals" your polish, gives it a professional, glossy look, and will help your mani pedis last longer.

Using the products + brands mentioned in this tutorial, my manis last about a week, and pedis last a few weeks.
Shop My Eco Friendly Nail Polish Favorites
I curated my favorite, affordable mani pedi products in my LTK shop! Take a look.
Mineral Fusion has some gorgeous eco friendly nail polish colors for the upcoming fall season – Berry Cute (Plum), Deep Dive (dark blue), and Ice Queen (teal) are my personal favorites.

Tell me.
Have you found an eco friendly nail polish brand that you love? Do you do your own mani pedis?