10 Budget Friendly + Beautiful Gifts for Mom Under 100 Dollars
This post: Gifts for mom under 100 dollars – ten of the best budget friendly gift ideas.
Do you know about my favorite Mother's Day gift of all time? A little wooden angel, given to me by my oldest daughter when she was just 12 years old.
It's likely a knock off of the more expensive Willow Tree figurines that I collect – but I wouldn't trade this little angel for anything in the world!
Gifts for moms don't need designer labels or to cost a fortune. Speaking for myself, gifts that are beautiful + meaningful become treasured reminders of those I love.
If you're looking for affordable gifts for mom , I've got you covered!
In this guide:
Click any of the links below to jump to that section – or just keeping reading!
>Gifts for Mom Under $100 – the Boutique
>Tips for Keeping Gifts Budget Friendly
>10 Beautiful Gifts for Mom Under $100 Dollars – the Full List
---
Beautiful Gifts for Mom Under 100 Dollars
I curated this boutique-style shopping guide featuring budget friendly gifts for women who love beautiful + feminine things. These gift ideas are timeless! Refer to this guide any time you're shopping for a meaningful gift for Mother's Day, Christmas, birthdays, or any special occasion for Mom.
–> To use this guide: Hover over the images for details + click to shop!
Your purchases help support this website (without any additional cost to you). Thank you so much! xo

This shopping guide is hosted by Like To Know (LTK). Follow me on the LTK app for more!
---
Tips for Keeping Gift Giving Budget Friendly
I can go overboard with gifting pretty easily! Here are my best tips for giving meaningful gifts without over spending:
Set a cash budget. It's easy to spend too much if you don't have a dollar amount in mind when you hit the stores. If you're shopping local, decide on a budget before you go shopping and only take cash with you. Shopping online is a little harder because it's easier to over spend, but stick with that budget!
Earn cash back. A huge perk of shopping online is the ability to use cash back sites. I never shop online without clicking through cash back links – I love earning gift cards + rebates throughout the year from purchases I would have made any way. Mr. Rebates + Honey are my favorite cash back sites.
Shop small. I prefer small businesses over chain department stores, hands down. If I'm going to spend $50 or $100 on a gift, I'd rather spend my money at a small business, local or otherwise.
Shop off season or during sales. Like anyone, I sometimes find myself scrambling for last minute gifts. But I find the best deals when I buy during sales or off season.

---
Here's that full list.
10 Beautiful Gifts for Mom Under 100 Dollars
The beautiful gift boxes from Virginia Dare Dress Co are my go to source for long distance gifting. Gift boxes start at just $13.95 + all but the largest gift box are well under $100. Save 10% off your purchase when you use my promo code :: KRISTY0
---
Did you know you can buy fresh cut flowers from Amazon + have them delivered to your Mom's door step? Prices are competitive, shipping is free, and these have 4+ start reviews. I'm definitely giving Amazon a try the next time I want to send a fresh bouquet!
---
If your Mom loves fragrances, consider gifting her a beautiful perfume or lotion set. This deluxe box of mini perfumes would make a lovely gift ($61.75), or try the travel set ($24). Finish off your gift with this quintette of mini lotions ($42).
---
#4 Clean Makeup
Clean makeup is good for your mom's skin + makes an elegant gift. I recently discovered Live Tinted, a clean makeup brand that offers a growing variety of beauty products for every shade of skin – from fair to ebony. Slip some lip gloss, "blushing bronzer," and highlighter into a gift bag for a sweet surprise!
---
You don't have to spend a fortune to buy your Mom a beautiful Mother's Ring! I was pleasantly surprised to find a variety of high quality, elegant styles from Etsy sellers – for under $100!
---
Your Mom can take her self care routine to the next level with these wonderful aromatherapy bath bombs! I gave the sample box a try + loved it so much I added the collector set to my wish list. xo
---
---
#8 Strand of Freshwater Pearls
I received this dainty strand of freshwater pearls for Mother's Day several years ago, another of my most cherished gifts from my kids. Real pearls for under $100? Believe it or not!
---
#9 Black Diamond + Opal Bracelet
Precious stones don't have to cost a fortune! This stunning bracelet is handmade with raw, black diamonds + tiny welo opal stone beads. Choose either sterling silver ($70.65) or 14K gold metal ($75.85) finish. I highly recommend this Etsy shop.
---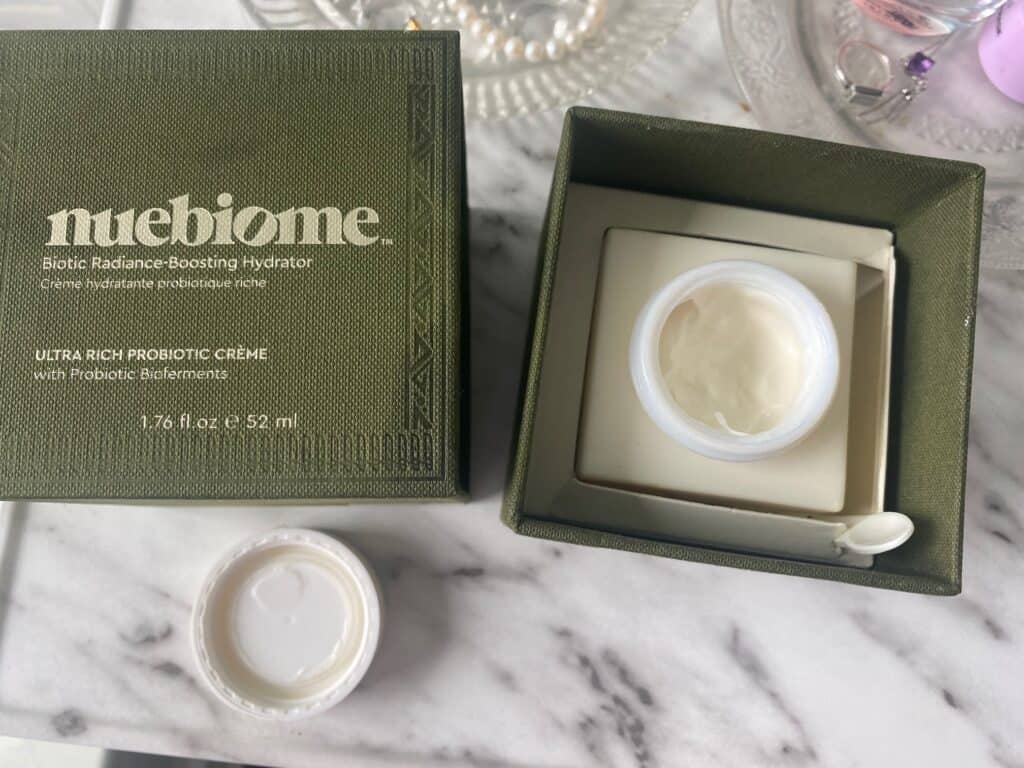 Spoil your Mom with this anti-aging, probiotic face cream. It goes on like an old fashioned, luxurious cold cream! For an extra treat, add a bottle of face toner + make it a set.
Before you go…
Like this gift guide? Follow me on LTK for more budget friendly, timeless fashion, home, + lifestyle finds!
Your turn.
What's the best gift you've ever received as a mom? Why did you love it? Tell me about it in the comments below!