Homemade Play Dough Recipe {safe for gluten free kids}
[adrotate banner="6″]
I've been using this homemade play dough recipe ever since my kids were little.
I had to tweak it a few years ago, when our family began discovering with gluten allergies.
What does gluten have to do with play dough, you ask?
Strangely enough, store-bought play dough is made from wheat (among other things), and that poses a problem for gluten sensitive kids.
Thankfully, my kids aren't so allergic to gluten that they can't touch "regular" play dough. In fact, they frequently play with it, and it's never been an issue.
My concern, especially when my kids were toddlers, is that they put everything in their mouths.
I didn't want my kids getting glutenized by eating play dough, so I tweaked this favorite recipe to make is completely safe for my gluten-free kids..
So if the little guys sneak a bite here and there, no problem.
I've always liked this version better than any other homemade play dough recipe I've tried, simply because it's so smooth and easy to work with.
(I confess to having played with this "dough" myself… )
We call it our "fancy" play dough, since it's so soft and pliable. My girls are old enough now that they've tweaked this recipe even more, so now we have scented, sparkle play dough.
I hope your kids enjoy this homemade play dough as much as mine do!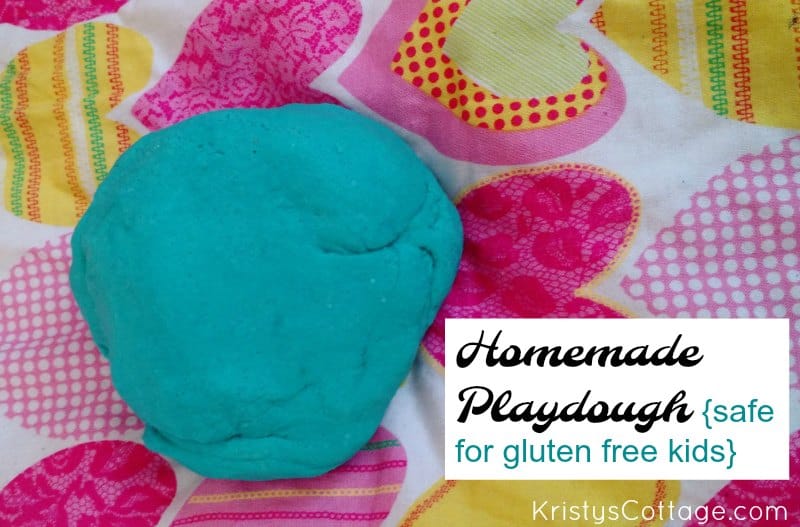 Homemade Play Dough for Gluten-free Kids
2 C gluten-free flour blend
1 C salt
2 T cream of tartar
2 T olive oil
1 3/4 C boiling water
optional: natural food dyes, essential oils, glitter
I generally use the gluten-free flour blend and super cheap table salt (50-cents for one container) from Walmart!
Directions: Combine gluten-free flour, a pinch of salt and cream of tartar.
Next, add the oil slowly, stirring as you go. This mixture will be super crumbly at this point!

Carefully add boiling water to the mixture and stir; this is also the time to add any dyes or essential oils to make your play dough extra fun! Set the dough aside and allow it to cool for a few minutes.
Once the play dough is cooled a bit, knead it until smooth. (Add a little additional flour if needed.)
Work in the glitter if you want some sparkle!
This play dough will last up to a few weeks if you store it in an air tight bag or container.
If you don't have a gluten-free flour blend on hand, or you don't want to use a pricey flour for play dough, potato starch is a good option too!
You can use a few drops of natural coloring and essential oils for a really fun play dough!
A few ideas:
[wc_box color="primary" text_align="left" margin_top="" margin_bottom="" class=""]
beet juice or powder (for pink) with a few drops of peppermint essential oil
blueberry juice (for purple-ish/blue) with a few drops of lavender essential oil
a sprinkle of cocoa powder (for brown)- no scent needed for this one!
a sprinkle of ground turmeric (for yellowish orange) with a few drops of a citrus blend
[/wc_box]