Easy Peasy 3-Ingredient Homemade Wood Floor Cleaner That Shines
This post: homemade wood floor cleaner that will make your floors shine. Guest post by Laura Bailey.
When we moved into our home, I was in love with the wood floors in the dining room.
But I must admit, I was a little scared that we would ruin them!
I've always gotten the impression that wood floors are hard to care for. Truth is, wood floors are actually wonderfully durable and pretty easy to maintain.
I clean our wood floors in our dining room about once a week. Of course we sweep and spot clean after every meal since this is the room where a 1-year-old and a 3-year-old eat meals.
And truthfully, the floors could probably stand to be thoroughly cleaned more often than that! But hey, I'm a busy mom and I do my best. *wink
I use a natural wood floor cleaner recipe that only requires 3 ingredients.
I like to spray the cleaner on the floor and mop up using my steam mop. (I use this one.
) The heat makes the floors dry more quickly!
If you have a steam mop, be sure it has a setting that is safe for wood floors.
Or you can mix this recipe up in a mop bucket, using the same proportions, and clean your floors with a regular mop.
To do that, just multiply the ingredients by 8 to make 1 gallon of floor cleaner.
DIY Wood Floor Cleaner
2-3 drops essential oil (I love lemon, lemongrass, or eucalyptus)
Mix together in a spray bottle and spray directly on the floor in small sections, mopping each section with a steam mop.
If your floors are a little grimy, you can add 1/2 teaspoon of Castile soap
. A little goes a long way, so you really don't need much.
I also polish the floors occasionally using this next 3-ingredient recipe – usually once per season.
Spring cleaning is a great time to do this. It gives them a good conditioning and makes them shiny!
DIY Wood Floor Polish
15 drops essential oil (for this, I typically use a combo of lemon and eucalyptus)
Combine ingredients in a spray bottle, shake well, and spray directly on the floor in small sections.
Polish each section with a microfiber cloth.
You could also try using a microfiber mop, but I find it easier to really work the polish into the wood using a cloth.
I did half of my floor so you could see the effect.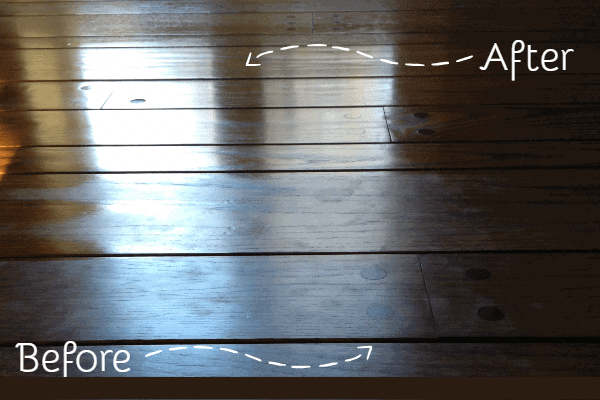 This really is a homemade wood floor cleaner that shines!
The extra good news: you can also use this polish on wood furniture.
It is so much safer than the stuff in the yellow can. It is much better on the environment and you don't have to worry about your kids touching the furniture after you've polished it! That's always a win in my book.
Added by Kristy Lynn: Both the cleaner + the polish work great on the vinyl plank flooring in our family's remodeled farmhouse, and I've used them with good results on real wood floors too.
Check out more clean home DIYs:
Your turn.
Ever tried a DIY wood floor cleaner? Drop a comment below + tell me about it.