I want to homeschool, but how do I get started?
[adrotate banner="6″]
I'm kicking off our homeschooling feature at the blog with a few Q&A posts.
This question is one I've heard recently from a few moms, and definitely one I had myself:
"How do I get started as a homeschool mom?"
That's a really great question!
Making the decision to educate your kids at home can seem huge in itself, but actually getting started… that can feel so daunting when you're starting from scratch!
I am very blessed to be a second generation homeschooler. My mom did an amazing job homeschooling my two siblings and myself, so getting started as a homeschooling mom felt pretty natural for me.
I realize that everyone doesn't have the background that I do, so I want to offer a few encouraging suggestions for the mom who might feel clueless, scared, and overwhelmed.
What I'm about to share isn't exactly "advice"… just a few thoughts based on my own years of homeschooling.
If you're a new homeschooling mom, I hope this encourages you and offers a point of reference to help you get started!
1. Connect with other homeschooling moms.
I mention this first because I know it can be tough to feel like you're in this by yourself. Find a support group… or better yet, some really great friends!
Do you have acquaintances or family who homeschool?
Is there a homeschool co-op in your church or community? If so, find out how you can participate.
If not, seek out at least one or two other homeschooling moms who are willing to come along beside you as a team. Meet together occasionally for play dates or field trips, talk about curriculum, be honest about your struggles and questions regarding homeschooling.
Look for a group of moms who are going to support and encourage you, not criticize and compare. Seek out supportive friends, and seek to be a supportive friend to other moms. You are in this together, so don't get caught in the comparison trap.
If you're looking for online support groups, I just launched a small Facebook community of homeschooling moms. I'd love to connect with you right here!
2. Don't over-complicate the process of choosing a curriculum.
Deciding on a curriculum is probably the biggest challenge to actually getting started with homeschooling.
I know it feels like EVERYTHING rises and falls on curriculum, but it really doesn't.
You're not going to ruin your children if you don't pick THE PERFECT curriculum. And, honestly, there isn't a perfect curriculum.
I thought of three suggestions to help simplify the process of choosing a curriculum for your family:
Ask homeschooling moms what they curriculum they use and why they love (or don't love) it.
Most homeschooling moms love to talk about curriculum! Don't be shy about asking questions, that's how you're going to get some great first-hand recommendations. Online groups and forums are a great resource, as well.
Attend a homeschool book fair, if possible.
By way of warning, book fairs can be quite overwhelming. They are typically noisy, crowded, and over stimulating!
However, they're also a great way to get a hands-on look at differently curricula.
I thought of a few points to help a newbie homeschool mom survive a book fair, so some day I'll probably dedicate an entire post to that topic. For now my biggest suggestion is this:
(1) find a trusted baby sitter to watch the kiddos for the day, and
(2) attend a book fair with the intent of window shopping only.
Go home and think it over before you settle on a curriculum choice! Rushing into a curriculum purchase is probably a bad idea.
Give yourself permission to change your mind if something doesn't work for you.
You aren't "married" to whatever curriculum you choose.
My experience is that homeschooling is a very fluid lifestyle. We change and tweak as the need arises, and that certainly includes curriculum!
3. Create a simple routine and schedule.
Routine and schedule are two different things and both are absolutely vital for a successful homeschool year (in my humble opinion). The key is to keep things simple so you can stay on track!
Let's unpack routine and schedule really quickly:
A daily routine is important because it provides structure and motivation for your day. As a new homeschool mom, my daily routine looked something like this:
Morning: breakfast, read aloud time with Mommy, school work with older children, nap time for baby.
Lunch
Afternoon: play time, errands and chores, nap time for all children.
That may sound too simple, but trust me on this: over complicating your homeschooling routine is a sure way to set yourself up for failure.
Keep things doable and simple. Leave room for interruptions, changes, sick days, and just days that just don't go right. Believe me, you will have those! When you do, simply get up and start over the next morning.
A homeschooling schedule is the bigger picture for your week, month, or school year. Mine might include how many days each week we plan to do school, how many weeks per year we plan to do school, when we will take breaks, when we plan to start and finish the school year, etc.
My daily routine is made up of all the baby steps that keep me moving in the direction of my yearly homeschool schedule.
The bigger picture can't happen without the daily commitment to just get up and do it! And that brings me to the next point-
4. Just get started.
If you're a planner like I am, then all the details of getting your life as homeschooling family mapped out is probably both exhilarating and overwhelming.
Of course you want to do it well, but don't get so caught up in the preparation details that you wear yourself out trying to get to first base! Homeschooling is a lifestyle, and that means it's a marathon… not a sprint.
My encouragement is to educate yourself, connect with some homeschooling moms who will support you, create a simple plan of action, then just do it.
If you had to spontaneously wake up tomorrow morning and start homeschooling your kids, what would you do?
You would get up and get started, right?
Well, in essence that's exactly what you're going to do, every day of your homeschooling life for the next however-many-years.
You're going to wake up, get your day started, and help your children work through another day of learning, growing, and making life happen.
Routines, schedules, and planning aside, homeschooling is life.
You do it because you are alive and it needs to happen.
Intentional living is best, and intentional homeschooling is best.
But homeschooling at it's best is all about life, not just school work.
Get up and make it happen, then do it again tomorrow. It's really not any more complicated than that!
If you're new to homeschooling, I'd love for you to check out a simple ebook I wrote with several other home educators- Homeschooling Day by Day.
In this ebook, we tackle topics like choosing curricula, homeschooling styles, routines and schedules and more.
You can buy it for your Kindle at Amazon for under $5.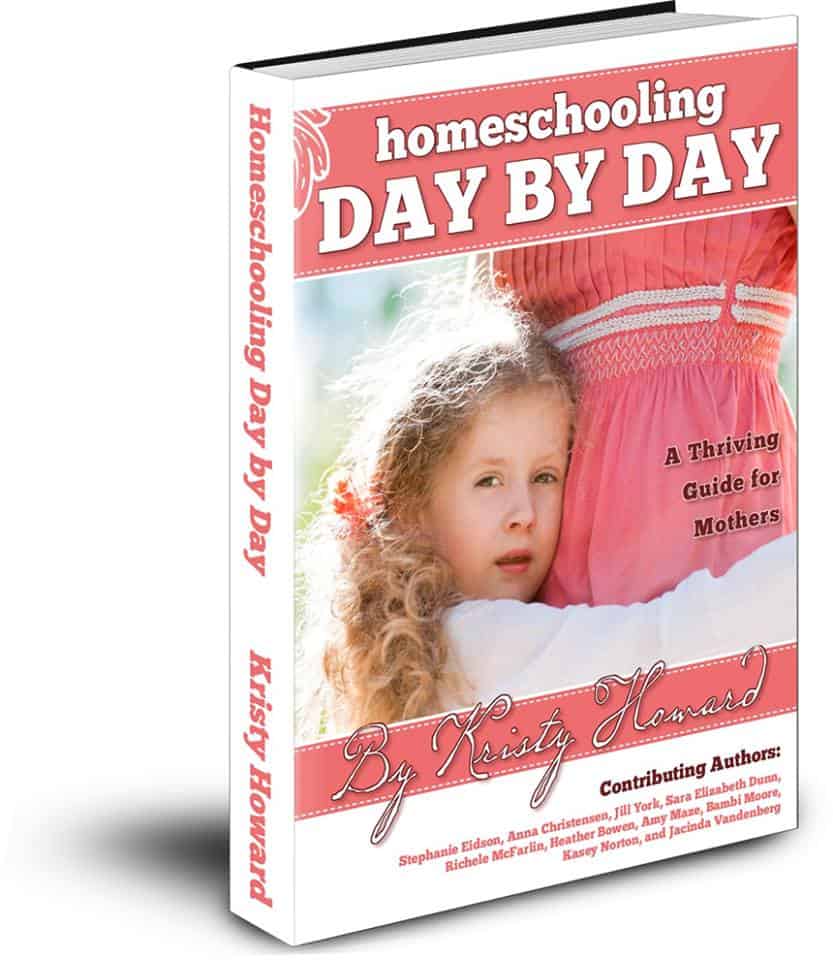 ---
Here's to living well-
xoxo,
Kristy