This post: The healthier pecan pie recipe: gluten-free + no corn syrup.
Every November, it happens. Our pecan trees (all fifteen of them!) produce an abundant harvest. My pecan-pie-loving husband begins leaving subtle hints (and pounds of shelled pecans) here + there.
Being the discerning wife that I am, I usually take the hint.
Behold, the results of a little tweaking and a lot of practice in the kitchen.
And a lot of pecans.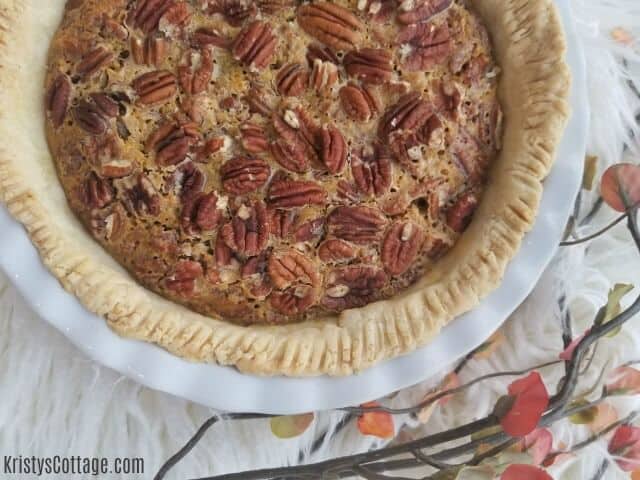 This no-corn-syrup pecan pie, with homemade gluten-free crust, first debuted at our Christmas dinner years ago… and it's been showing up ever since!
If you're looking for a healthier version of old-fashioned pecan pie, I think this recipe will be worth pinning and printing. (hint, hint)
How to Make a Pecan Pie Without Corn Syrup
Just in case you're still tweaking the pie-making thing, here's a step-by-step tutorial, with pictures.
Enjoy!
Ingredients:
1 C sugar (this is my favorite brand)
½ C agave nectar or maple syrup (both are delicious!)
1/3 C butter
4 eggs, beaten
1 tsp pure vanilla extract
¼ tsp sea salt
1 ¼ C pecan halves or pieces
1 Favorite Gluten-free Pie Crust
In a medium sauce pan, melt the butter, sugar cane, and honey or agave over medium-low heat until butter melts.
Note: I generally opt for agave nectar or maple syrup over honey, simply because I have gotten some rather strong-tasting results when using honey ( especially if it's local, raw honey).
Agave nectar yields a mild, pleasant flavor to the pie.
The key to creating your own syrup: Heat butter mixture just until it comes to a boil, then reduce heat and simmer, stirring constantly, until mixture thickens and foams.
Remove from heat and let cool slightly.
Stir in eggs (after the mixture has cooled a little, or they will "cook"!), vanilla, sea salt, and half the pecans; stir well to combine. Pour mixture into pie shell and top with remaining pecans.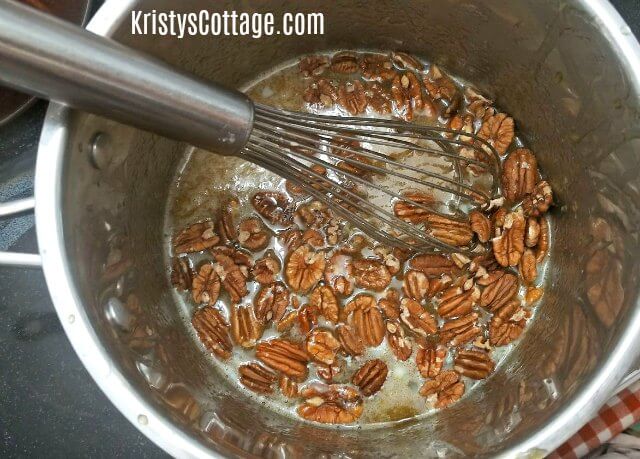 Bake at 325-degrees for 50 to 55 minutes, or until crust is golden brown and pie filling is "set".
I generally have to experiment slightly with the baking time; my oven tends to cook hot, so I set the timer for about 45 minutes and check the pie; if the filling is not "set", I continue baking in increments of 5 to 7 minutes until the pie is done.
The filling will "puff" up a little once it starts to set.
Once the pie is removed from the oven and starts to cool, the filling will constrict to normal size and should be moist but not gooey when you insert a butter knife into the center.
Here's what your pecan pie should look like when it's ready to take out of the oven.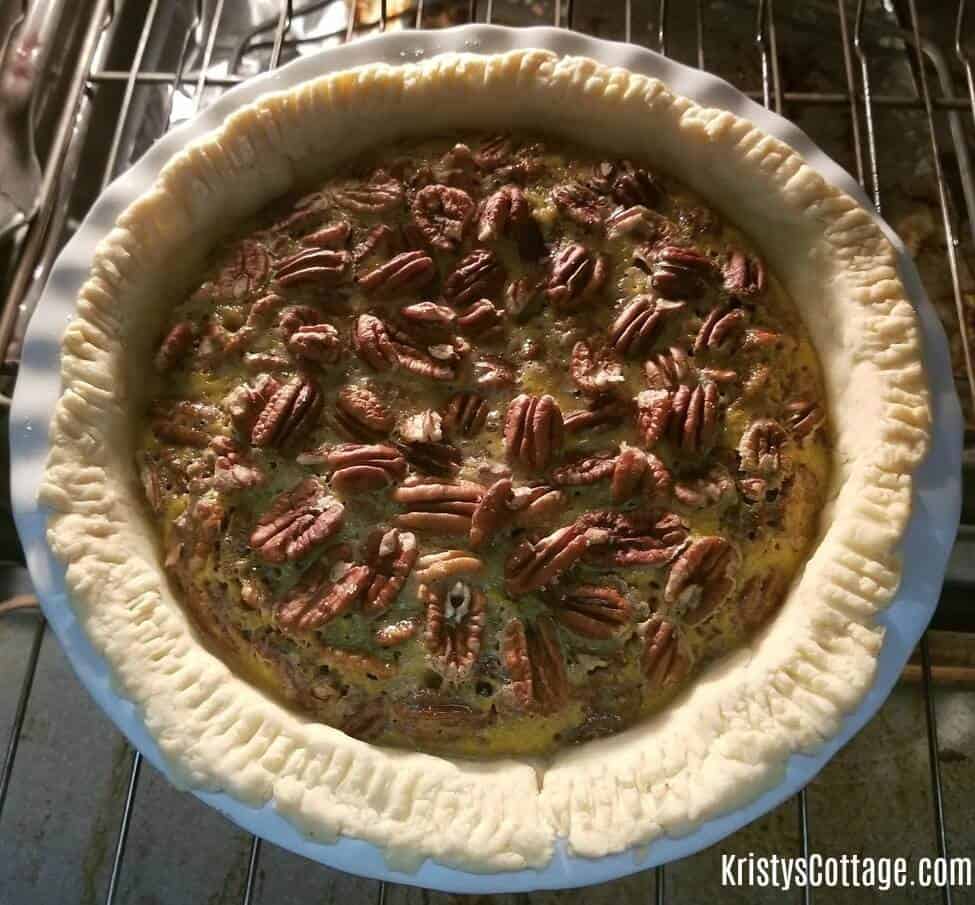 And a peek at the pie when it's ready to serve: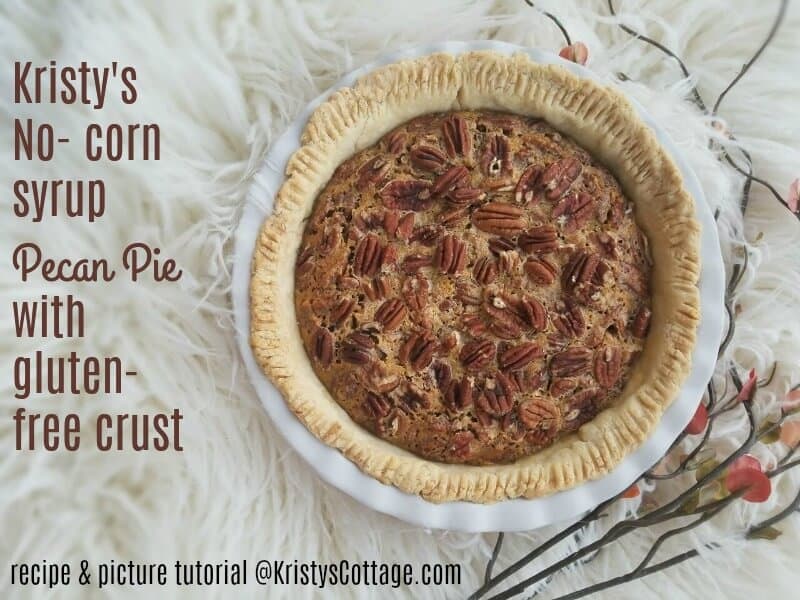 A few markers to watch for:
a nicely browned (but not over-baked crust)
the edges of the pie are starting to brown and look toasty
the pie filling should be bubbly for a while, and then "set"
the center of the pie will bubble just a bit and not "jiggle" when you gently move the pie dish
About that Gluten-Free Pie Crust
I'm not a baking guru, so you won't find a winning gluten-free pie crust recipe on my site. (Sorry.)
But I absolutely can give you some never-fail resources for getting a gluten-free pie on the table!
My go to hack is to buy one. I can generally find gluten-free pie crusts at super markets like Natural Grocers or Krogers.
If I'm going to make a pie crust at home, I use gfJules gluten-free flour. I've been using this brand of flour since 2018 (after trying many, many brands + recipes) and highly recommend it.
gfJules has some fantastic ready-made mixes, but unfortunately no pie crust mixes (yet). So I rely on their flour + recipe.
Here are some links to check out before you attempt to make a gluten-free pie crust. (Trust me, you don't want to just dive in unless you happen to be an expert with gluten-free flours.)
Your turn.
Ever tried your hand at pecan pie? Or a gluten-free crust? Throw your tips or question at me!
About the Author
Latest Posts
Kristy Lynn is a wife, mom, content creator, + modern homemaker from the Fort Worth area. Unless she's lost in a pile of books (or dirty laundry), you'll likely find her writing, over-thinking, or chauffeuring her kids somewhere. Kristy hates sleeping + cooking. (Necessary evils.) However, British accents, old churches, hiking trails, and debates never fail to entertain. She accidentally buys too many clothes and finds typos everywhere. Connect with Kristy on FB + IG @simplykristylynn.