3 Tips for Planning a Fall Family Photo Shoot with Toddlers or Teens
Need some help planning the fall family photo shoot? Here are sanity-saving tips from a mom of five.
Procrastinating. Tons of griping. Awkward smiles, blinks, + nose picking. What do all these things have in common? If you said, a family photo shoot, then bingo. You're right.
And you're obviously the parent of tiny humans who will fight you, tooth-and-nail, in order to not get in front of a camera. (That goes for husbands, too – but I digress.)
The fall family photo shoot has been a tradition ever since my husband + I got married (way back in 2002). As our family grew (+ grew), we squished babies, toddlers + teens into our yearly menagerie.
Nose-pickers + gripers aside, it has been totally worth the effort. But it does require effort.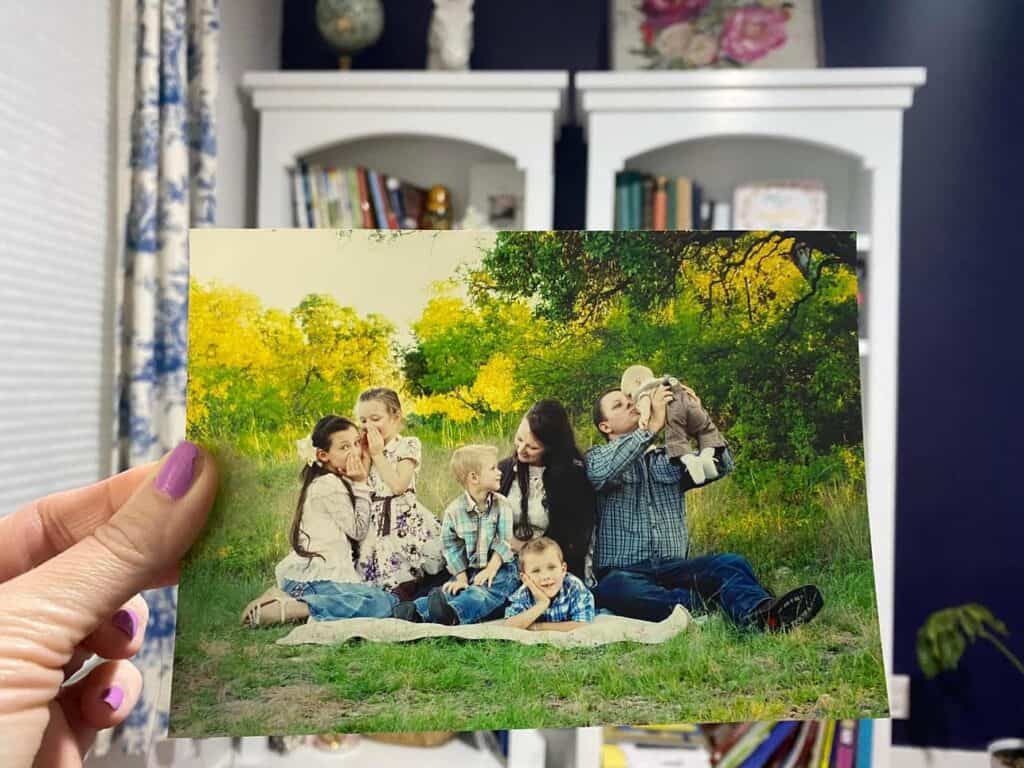 If you need some help getting your photo shoot off the "to do" list, consider this your nudge. I've narrowed the process down to just three steps (with lots of helpful tips sprinkled in).
Here's what this post will help you do:
If you're still inwardly groaning, let me assure you: You'll be so glad you did this. Now that my older kids are teens, the catalog of smiling (sometimes smirking) faces is very precious to me.
And I promise – it does get easier.
Let's dive in:
Get the Photo Shoot on the Calendar ASAP
You want to love your family photos, so give yourself plenty of time to do it right.
Pick up your phone today and get a fall family photo shoot scheduled.
Chances are, you'll need to check the family schedule and find a day + time that works for everyone.
To get started, ask your photographer for two or three available dates. That will give you something to work with.
When is your family's next available late afternoon or early evening?
Have teenagers that work outside the home? Check their schedules too.
Don't forget to double check the weather forecast if you're scheduling an outdoor session.
How to Find a Photographer
If you don't have a photographer in mind, start asking your friends who they use or know. I've found the best photographers this way.
Freelance photographers typically offer better rates than professional studios, so that's a big plus.
A few things to ask a photographer:
Do they offer a flat rate for family sessions?
How long is the session? (If you have a larger family, or little ones, you'll need some extra time.)
How many photos/poses are included in the package?
Can you get a flash drive of all the photos and order them directly from your favorite photo website? (This will save you lots of money.)
Benefits of an Outdoor Photo shoot
I learned pretty quickly to stay away from stuffy indoor studios when our kids were little. Our experience is that little people just don't do well with the artificial lighting, cords, backgrounds, props, etc.
Lighting is typically much better outdoors than in an indoor studio, as well.
Last year was an exception. We had the hottest summer on record here in Texas, and needed to get our annual fall family photo shoot done before our oldest daughter headed off the basic training in August. We ended up doing an indoor photo shoot with our photographer and love how our pictures turned out.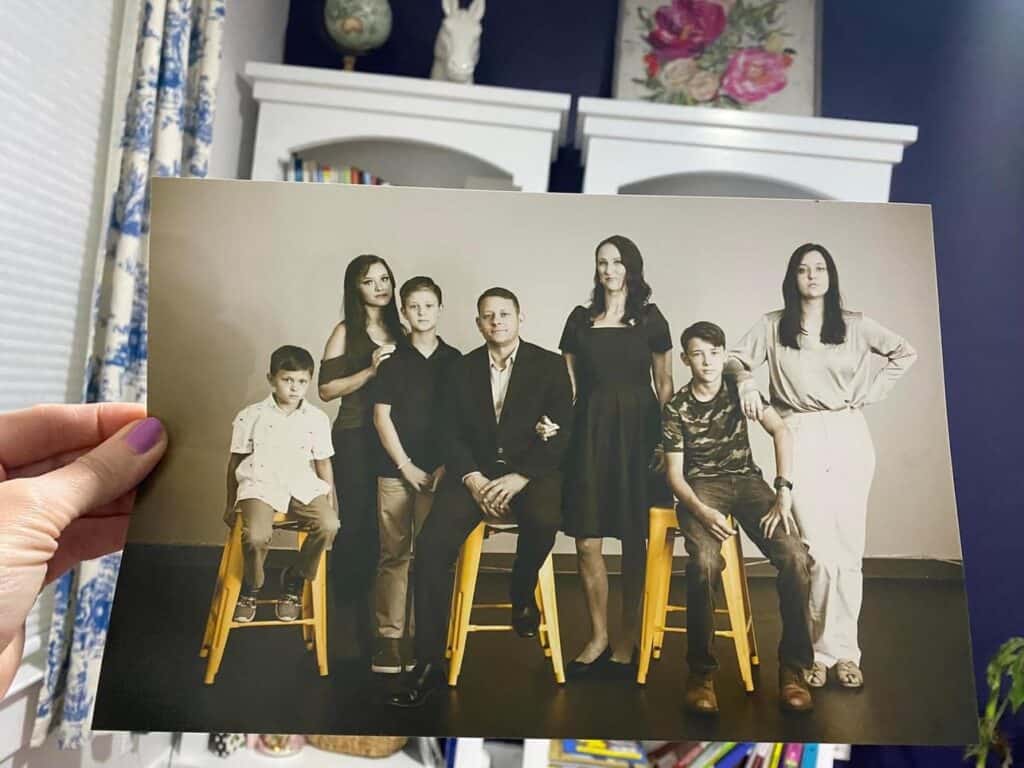 All things considered, I still prefer an outdoor photo shoot though.
Tips for a Great Outdoor Photo shoot
Bring bug spray if mosquitoes, etc, are a problem in your area.
Pack non-messy snacks and bring water bottles.
Plan to let the kids play after the photo session; be sure they know it will pay off to sit (or stand) through the pictures because they get to wiggle all they want afterwards.
Once you're ready to order photo prints, let your kids pick out wallet-size pictures to share with their friends; my kids love doing this.

-> Need inspiration for photo shoot ideas? Read: 50 Fall Family Photo Ideas.
Checked your family's schedule and set up a photo shoot with a photographer?
It's time for the next step (which is my personal favorite)-
Plan + Prep Your Photo Outfits
I love this part! Fashion is my love language, and nothing makes me happier than coordinating colors + clothing.
If this step makes you break out in a sweat, never fear: I have sanity-saving ideas for you. xo
Here are a few things to keep in mind:
How To Pick a Color Palette
Choose colors that look good on each family member. I like to build on neutrals (cream + brown, or black + white, for example), then add pops of color.
Make sure everyone has something that fits the theme. If not, time to go shopping.
If possible, choose a color palette you haven't already worn in a recent family photo. (Variety is the spice of life.)
Keep it timeless! Personally, I don't want our family photos to scream "Christmas!" all year long. Go with a color palette that isn't necessarily seasonal.
After I've decided on a color palette (my teenage girls always have great input here), I check that we have shoes, accessories, and anything else we need in plenty of time before the photoshoot.
Shop for or order anything you need to complete everyone's outfits.
About a week before picture day, my girls and I set out everyone's outfits + accessories, so nothing ends up dirty (or lost). If you don't do this, it's very likely that a small human will wear the exact outfit you planned for him to wear for family pictures (even if he hasn't worn it in years).
Optional: create a simple layout (like across your bed) of the outfits to make sure they look nice together. If everything is good to go, you're ready for the photoshoot!
Need ideas for outfits? This post, 18+ Modern Fall Family Photo Outfits for Outdoor + Indoor Sessions, has tons of outfit ideas + color palette boards.
How To Crush Picture Day
Some intentional tips can make the family photoshoot much more enjoyable for everyone, especially if you have little people.
Coach Young Kids on Their Smiles
Kids can make the craziest faces.
Yes, I know they do this on purpose. But I'm talking about even when they're not trying to.
A few "practice smiles" are a good idea for the little people. (Maybe even big people too.) Some kids don't like showing their teeth when they smile, so have them practice smiling in front of the mirror to find a grin that feels and looks natural.
Photographers advise not saying "cheese" when we smile. Instead, say something that ends in "uh" (like "pizza" or "mocha"), so that the corners of your mouth naturally turn up.
Personally, I love it when a photographer catches us laughing. Nothing is more beautifully natural than a heartfelt laugh!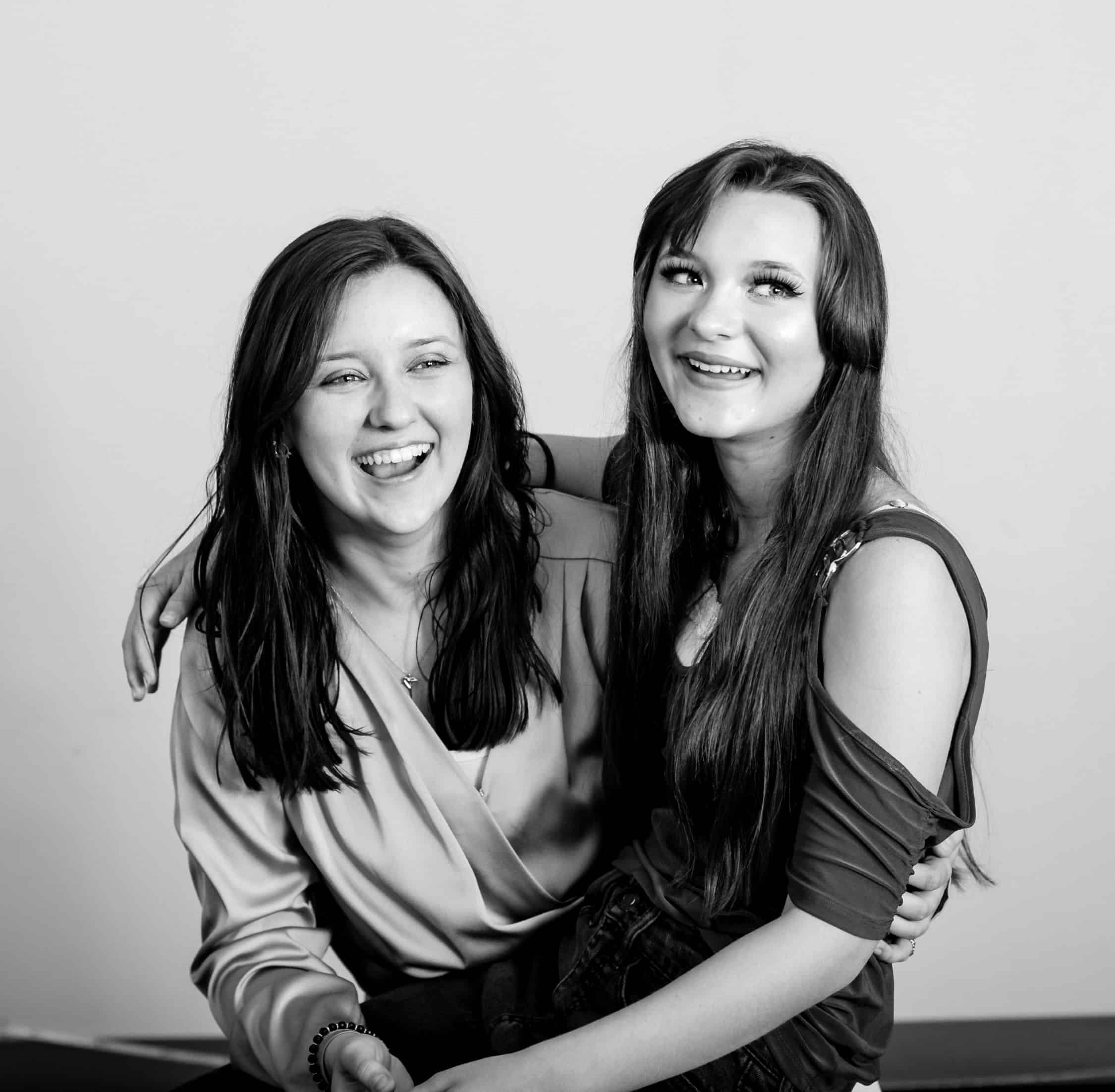 Don't Expect Perfection
Family life isn't perfect.
So why would we expect our family photos to be?
In an air-brush-crazy world, it's easy to want to white-wash reality into something flawless. But, really, people who love us want to see us in our pictures.
Yes, a top notch version of us. But us, just the same. So let your true selves shine.
Is your family artistic or out-of-the box?
Are you a serious or classy or fun-loving family?
Let all the reality of "you" show, and you'll probably love your family photos- even if they aren't perfect.
Remember: It's Never Going To be Convenient
Do you know why my first "step" in this post is "get the photo session booked ASAP?" Because if you wait until you have time, the family photos will never happen.
I can't think of a single instance when our family photoshoot felt convenient.
In fact, some years the timing was pretty awful. We've had everything from rough parenting days + family deaths to our oldest daughter leaving for army boot camp, just days before our photo shoots.
You know what? Those photoshoots tell part of our family story. When I look at faces, I remember how we had to press through feelings of stress and tiredness to smile at the camera. Behind the tired eyes (mine and my husband's, mostly), I see the love and commitment that keeps our family strong through hard seasons.
Ours is a very imperfect family. A family that sometimes wishes we could photoshop certain things right out of our lives (and, yes, our photos).
But really, all we need is a willingness to show up one more time. To put this tradition on the calendar, one more time.
To smile, without fear that the imperfections that might show up. Because even if they do, I'm learning that the most beautiful smiles shine best out of hard days and broken places.
Where To Order Photo Prints, Holiday Cards, etc
If you found a photographer who agreed to let you order your own pictures, you may be wondering, Where's the best place to order photo prints, canvases, holiday cards, photo books or gifts?
My Favorite Photo Websites:
Money saving tip: Before you order your prints or cards, be sure + login to Mr. Rebates! Many online shops offer a percent back when you click through to their sites via Mr. Rebates. (I've earned hundreds of dollars over the years by using this cash-back website.)
By the time you've ordered your beautiful family photos + Christmas cards, you'll be ready to sit back and enjoy a cuppa. Don't forget to pack yourself on the back!
This time next year, you'll be doing it all again. (Try not to think about that right now.) But you will have done the beautiful work of capturing this season of your life.
I can tell you, it's worth it every time.
Tell me your biggest challenge.
Do you plan a fall family photo shoot? If not, what holds you back?