How to Wear a Halter Neck Dress :: 3 Tips for an Easy + Feminine Look
This post: Style tips on how to wear a halter neck dress like a QUEEN.
Halter neck dresses are something I shied away from for years. When are they appropriate? And who looks good in them? (I was pretty sure I didn't, so I never tried.)
Style experts tell us that halter neck dresses are perfectly suitable for relaxed occasions – like outdoor picnics + barbeques, birthday parties, or a girls' night out.
As far as who can wear them? My fellow rectangle-body-type girls, with medium to fuller busts, we are in luck! xo (We certainly aren't the only ones who can rock this style, but we most certainly can rock it.)
I recently took the plunge + purchased a floral halter neck dress from Amazon… and fell madly in love with it. This style is definitely a keeper for me! If you're still on the line, let me give you a gentle nudge.
Here are three super easy tips on how to wear a halter neck dress…
And absolutely feel like a queen.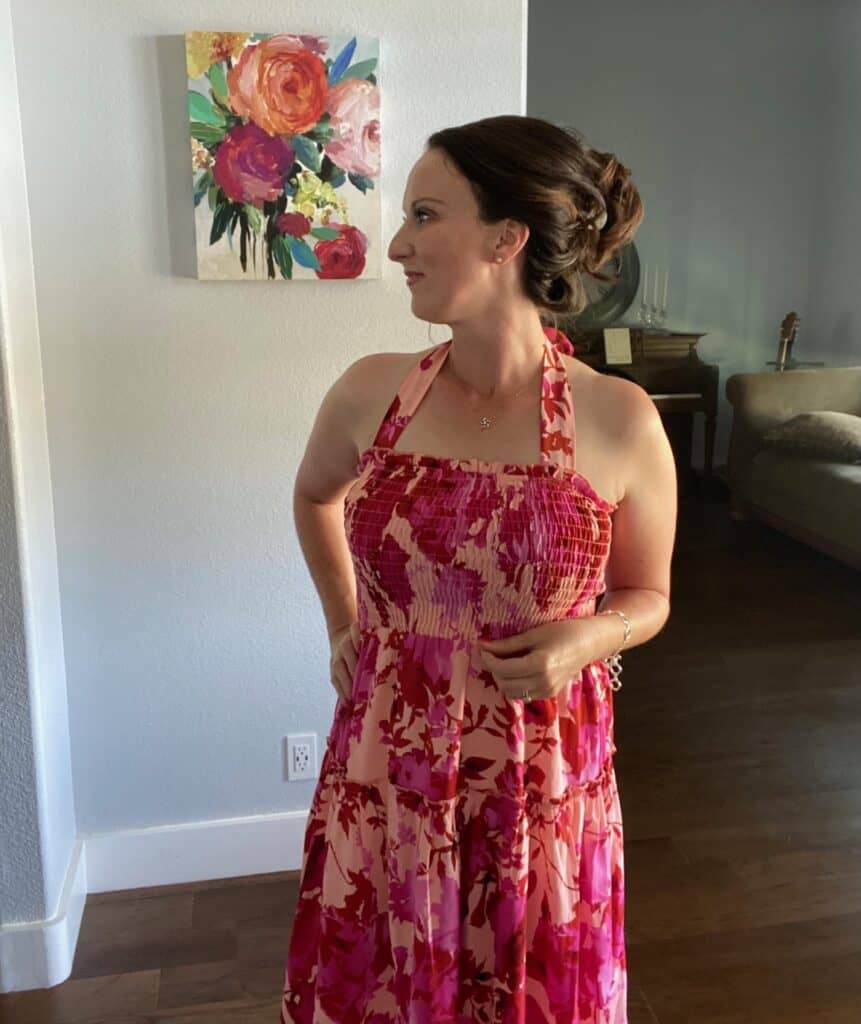 Tip #1: Invest in a strapless bra.
If you're going for the feminine, queenly look, then this step is a must. I happen to agree with the old-school fashion experts: showing bra straps just looks tacky.
The easy solution is to simply wear a strapless bra. (I love my strapless bra from Third Love, and highly recommend this brand.)
If you feel a bit self-conscious about your shoulders or arms – or if you simply want more coverage – you can always layer. Below are two ideas for how to wear a halter neck dress with layers.
Layer beneath your dress.
Choose a tight fitting cami or dressier tee for this option.
I'm personally a huge fan of Halftees, and styled my dress with the "blush pink" Boyfriend Halftee (pictured below). A big perk of wearing a Halftee instead of a traditional cami is there is zero bulk – Halftees are only half a tee, and they just come down long enough to cover your bra. (Read my Halftee review here.)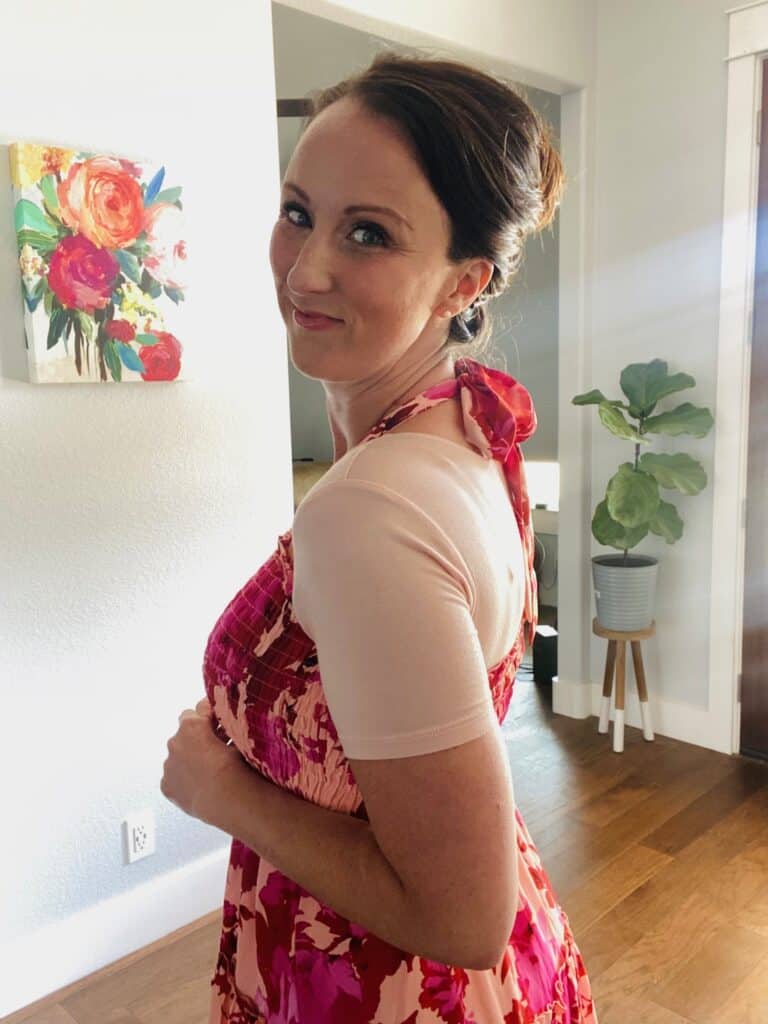 Layer over your dress.
This is a lovely option if you'll be wearing your halter neck dress indoors, or in a climate with chilly weather.
To avoid looking frumpy or bulky, choose a cropped, well-fitting jacket – the denim jacket pictured below is my go to layer to wear over dresses.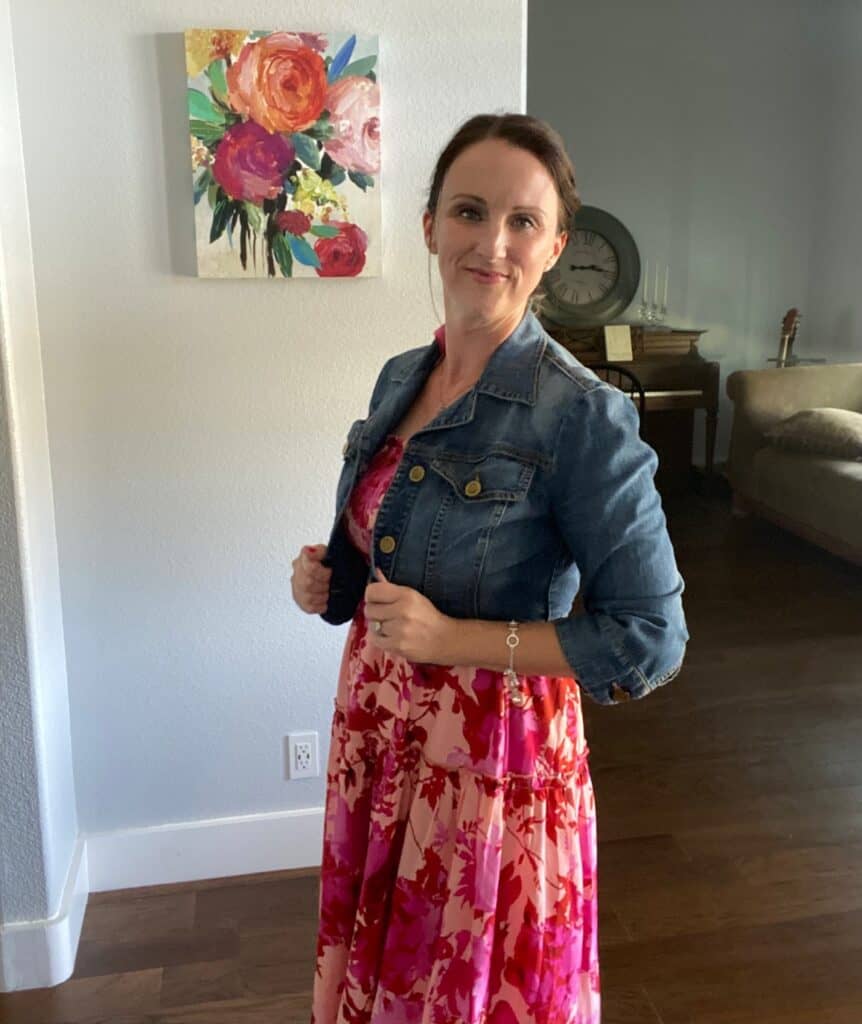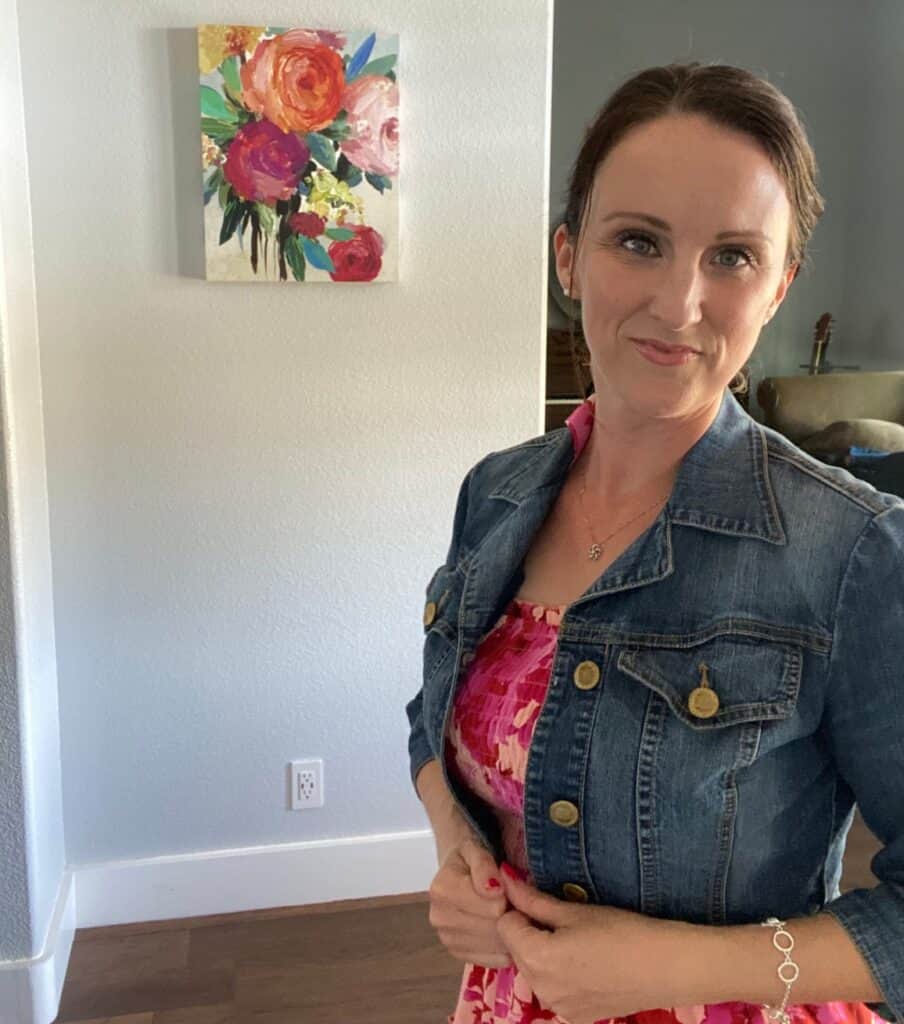 ---
Tip #2: Go minimalist with your jewelry.
I tried a statement necklace with this outfit + it felt like too much. With this particular dress, the print is pretty bold + the bodice is smocked – both are "statement makers," in their own right. And then there's the beautiful, flattering halter neckline + tie…
So I went with a subtle, feminine look: fresh water pearl studs, a Style Dots bracelet, + a dainty diamond necklace my husband bought me in Hawaii a few years ago.
It felt perfect.
P.S. If you are a jewelry maximalist – go for it, girl.

---
Tip #3: Sweep your hair into an updo.
Nothing is quite so queenly as sweeping your beautiful mane up + away from your face + neck. The practical benefit of this: you'll feel so much more cool in hot weather!
The feminine benefit of wearing your hair up with a halter neck dress is that you can show off that gorgeous tie at the nap of your neck!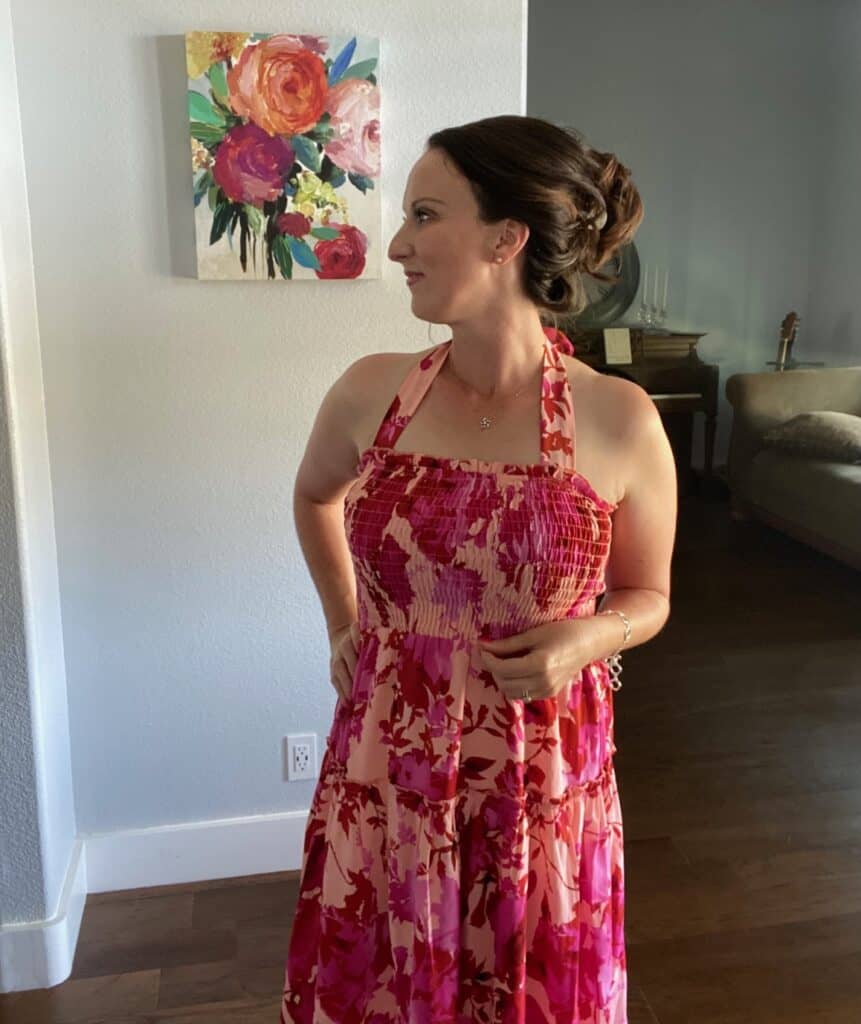 ---
Summary on how to wear a halter neck dress:
Flattering on lots of body types – especially (but not limited to) "rectangle" + "inverted triangle" shapes
A lovely option for fuller busted women
Best worn with a strapless bra
Can easily style with well-fitting layers (like a Halftee or cropped jacket)
Suitable for most summer climates + events
Easy to dress up or down, as preferred
A celebration of femininity + confidence
---
About the halter neck dress featured in this article:
Affordable (just $43.99)
Eligible for free shipping + returns (for Amazon Prime members)
Beautiful, smocked bodice
Lined (nothing is see through)
Comfortable, lightweight material
Washable
Feminine, summery print
Midi length (on me, anyway)

Final thoughts: this dress is the perfect summer wardrobe staple for me as a busy mom. It never needs ironed, I can pull it on + go, it's supper forgiving of my mummy tummy, and I can throw it in the washing machine at the end of the day. xo
---
Talk to me
What would you add to my tips on how to wear a halter neck dress? Do you own one?