I don't mind saying it: Homeschooling is Hard Work!
[adrotate banner="6″]
Homeschooling is hard work.
There.
I said it.
In plain English.
It's been a crazy month for me in the homeschooling/parenting sphere.
I found myself letting out a huge sigh of relief at the end of January, grateful we'd worked through a difficult month.
And, honestly, harboring a little disappointment that our winter semester was off to such a heavy start.
I'm an idealist, and "bad" days and "tough" months don't fit the image of homeschooling that I used to envision for our family.
January typically falls way off the margin of my ideal homeschooling spectrum.
One Friday afternoon, after another crazy school morning, I hopped on my laptop and rather spontaneously posted in my Facebook group for homeschool moms.
We just wrapped up the last school day of January… man, homeschooling has gotten off to a challenging start for me this year! If I had to give one word for January homeschooling, it would be "grit"… because that's what it took for me to finish up the month!"
I pounded out the words in my usual 100-words-per-minute style.
How has homeschooling been for you in January?"
I hit "post" and instantly felt writer's regret.
What if I discourage someone because I said I had a tough month? I wondered.
I'm a blogger, and bloggers aren't supposed to complain. I mean, what if that was a bad example? What if this sets off a complaining session in my group?
And I'm a pastor's wife too, and pastor's wives…well, you know, we need be upbeat and encouraging."
Within a few minutes, the women in the group of 350+ moms began to respond.
Tough! For me, January & February are my hardest months.
Very tough.. I am struggling fitting in homeschooling, house work, and my job. I'm sticking with it, but seems to be getting more and more tough to juggle it all.
It's rough getting back in to the swing of things for us.
Tough and crazy!
Rough!
It was rough with many frustrations.
Very tough. We haven't accomplished near what I would have liked.
As I read through, and responded to, these comments, I realized something very important:
Moms need other moms to be real.
It's a noteworthy objective to be a good girl and keep a smile on your face through the tough days.
To stick to a lesson plan, try to keep your house clean, not complain about it all.
But when the day is over and the books are put away, it's okay to curl into a quiet corner and cry because you feel overwhelmed and unsure of yourself.
It's also okay to tell another mom, Hey, I'm struggling. This day or month or week or year has been tough.
While I'm NOT a fan of negativity or complaining, I've discovered that being real with people is very healthy, very healing.
And very often it builds a bridge of communication and connection.
You're struggling too? I thought you probably had it all together!
A few years ago, I read Sally Clarkson book, The Life Giving Home.
While this book isn't a "homeschooling" themed book, Sally did raise and homeschool her four children, and I find that her writings always speak to and encourage me in my season of life as a homeschooling mom.
While working through the "February" chapter in the companion journal, The Life Giving Home Experience, I ran across this question:
What do you struggle with in February? What are you doing (or could you do) to overcome that struggle? "
It didn't take me long to pull an answer out for that one!
I struggle with homeschooling this time of year.
It's tough to stay focused, to get the kids back on track after the holidays and in the middle of the winter months.
The energy of the new-school-year is long gone, and I just need a fresh dose of inspiration!
Somehow, I felt validated by Sally's question.
So she knows that moms struggle in February.
Maybe we're grappling with something at any given time of the year, but each month and each season ushers in it's own unique challenges.
Today I want you to feel validated in your own struggles.
Not so you can give up and feel defeated.
I want you to take away TWO things from this post this morning:
1. It's okay to be real, because you're certainly not alone in whatever struggles you're facing right now.
2. The healthy response to every struggle or challenge is honesty and personal growth.
Go ahead, be honest with yourself.
Say it out loud: This is tough! I'm struggling! I need help!
And now ask yourself, What can I learn from this? How can I grow because of this challenging day or season of life?
Ask the Lord, What are you trying to teach me? Show me what the next step should be.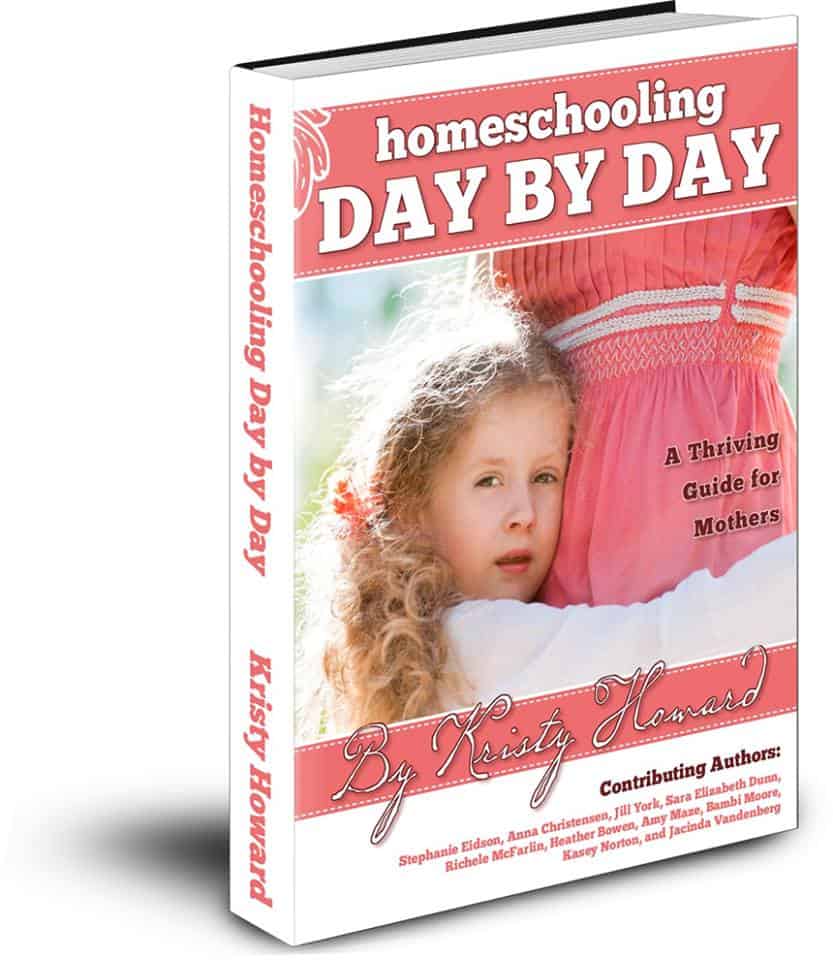 Maybe the next step is cutting back in a few areas so you can get more rest.
Maybe the next step is connecting with other moms who can support and encourage you. (I'd love to connect with you over in my homeschooling moms Facebook group.)
Maybe the Lord is teaching you (and me) to embrace His priorities and let go of a few unrealistic expectations.
Maybe He's teaching us to be more organized, more determined, less demanding, less self focused.
I don't know what your struggles are today, but I know it's okay to just be a little bit vulnerable and admit that you don't have it all together.
Because no one does. Not really.
We all need grace.
We all need growth.
And we all need support and inspiration.
Beneath all the struggles, insecurities, and pressures of life, we all desperately crave a safe, life-giving place.
So, put your chin up, light a candle, grab a cup of coffee… and let's do today together, okay?
Struggles, messes, to do lists and all… we've got grace for today!
—–>I'd love to connect with my fellow homeschooling moms over in our private Facebook group! You can join RIGHT HERE.
—–>These mid-school year months can be tough! Have you subscribed to this blog by email? Most Friday mornings, I send out a quick email with an encouraging thought and links to fresh content on the blog.
My prayer is that every woman who explores the pages of this blog finds a place to feel understood, validated, and encouraged.
You are loved!
Here's to living & loving well,
xoxo,
Kristy
P.S. If you enjoyed this post, will you please hit a "share" button? Thanks for helping spread the love!