Healthy Habits for the New Year (+ the Rest of Your Life)
This post: It's easy to get inspired about healthy habits for the New Year… but these ten are good for a lifetime.
There's a reason I believe habits really are key to living well – when ideals fade and inspiration wanes, what we fall back onto are our lifestyle patterns. If we've taken time + effort to cultivate healthy, productive habits, then our daily life will reflect that.
Today, I'm going to share ten healthy habits I believe will benefit every woman in any season of life.
However – don't try to tackle these all at once!
These are habits I've cultivated- and am still cultivating– over my lifetime of forty+ years.
My advice is to spend some time pondering + prioritizing, then pick a few (no more than three) habits to focus on in the coming year.
---
Healthy habits for the new year, at a glance:
I hope this post inspires you to make strides in your emotional, mental + physical health this year!
Love this post? Hit a "share" button + subscribe for more.
Habit #1: Oil Pulling
I started oil pulling several years ago for one reason – we don't have dental insurance + I needed to do something to keep my mouth healthy. This is the first thing I do every morning – pop a spoonful of Gentle Green Oil Pulling oil into my mouth + start swishing (for five to ten minutes, then I spit it out + rinse with warm water).
Swishing coconut oil is oil pulling in a nutshell, and here are a few ways this daily habit has improved my health (oral + otherwise):
removed stains from having braces when I was a teenager
is slowly healing my receding gums
naturally whitens my teeth
reduces plaque buildup
helps keep nasal congestion at a minimum
For years, I used Skinny & Co coconut oil for oil pulling, but unfortunately the company no longer keeps their product in stock. I've tried a variety of coconut oil brands + am currently using this coconut oil for oil pulling.
More reading :: Oil Pulling Benefits For a Healthier Mouth
---
Habit #2: Warm water
My family finds this habit of mine – drinking warm water first thing every morning – a bit crazy! But there are so many health benefits to doing this:
helps flush toxins out of the body
can activate your metabolism
aids digestion
may increase blood circulation
can help balance the body's electrolytes
may aid in decreasing nasal congestion
gently cleanses the liver
The last benefit – liver cleansing – is why my homeopath recommended this habit to me years ago. At first, sipping on a cup of warm water before breakfast felt a bit strange. But eventually, the habit stuck – and now I find I actually prefer warm drinks + foods (especially during the winter).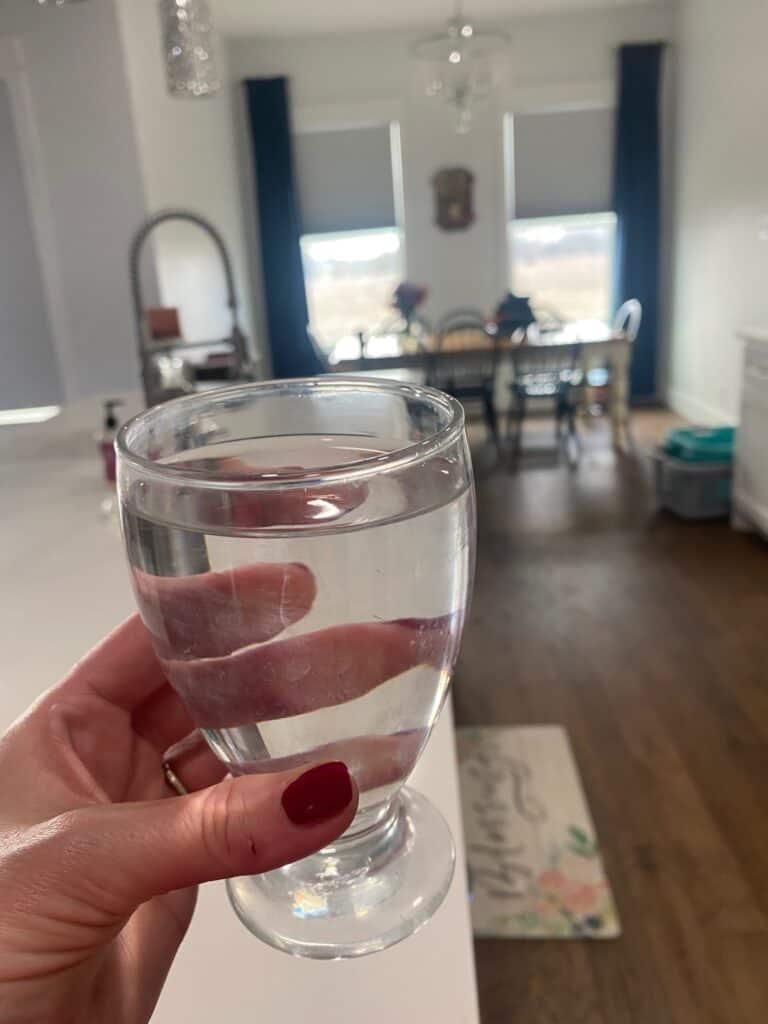 For optimal benefits, stir in a bit of freshly squeezed lemon juice before drinking your warm water.
More reading :: 10 Health Benefits To Make You Start Drinking Hot Water
---
Habit #3: Supplements
This is the third thing I do every single morning – I take these capsules on an empty stomach.
Now, I realize there are countless articles about the many "essentials" our bodies need on a daily basis – everything from trace minerals to fat soluble vitamins + omega fatty acids. I am by no means attempting to ignore the fact that our bodies need a lot of good stuff in order to function well.
But here's the fact: I have to keep things simple, or I just can't keep up. And these capsules are the ones that consistently make a difference in my health. I haven't skipped a day in years!
Check it out:: the E60 Challenge + How it Can Fill Nutrition Gaps
---
Habit #4: Move!
Like most of my healthy habits, I developed this one (working out/running) after my health hit rock bottom + I knew something had to change.
I share my daily workouts over on my Instagram account for one reason – I've discovered how life-changing physical exercise is for my health.
If you aren't naturally athletic or have never found the discipline to stick to a workout routine, you're in good company. But I'm here to tell you that the health benefits are totally worth the effort.
More reading :: The Productive Woman's Habits :: Exercise
---
Habit #5: Read
I'm an avid reader.
Nothing energizes me quite like learning, processing + implementing new knowledge. But if reading isn't something you enjoy, approach it like I used to approach exercising – do it because it's good for you.
A lifestyle of daily reading + learning will deeply shape your emotional, spiritual + mental growth as a woman.
Start with this: read something inspiring for five minutes every day. See where it takes you.
More reading :: The Habit of Reading + Learning
---
Habit #6: Get Dressed
You know I'm going to talk about what you wear, right? I mean, I love clothing + consider getting dressed an actual art.
Whatever your style or clothing preferences, the important thing is that you get up + get dressed. Even if you work from home. Even if you're a stay-at-home mom. Even if you live by yourself + no one sees you all day long.
Getting dressed – and specifically, dressing well – is a mental thing. Not just an act of pulling clothing over your body. I believe dressing well – and what that means is a bit different for everyone – very much sets the tone for your day, your personal confidence + even your life.
That's why I talk a lot about fashion + style here on the blog – this habit matters.
More reading :: How To Dress Well :: Women's Guide To Timeless Fashion
---
Habit #7: Journal
My great grandma gave me my very first diary when I was just nine years old, which I scribbled in – off + on – throughout most of my childhood. I've consistently kept a journal since I was fifteen years old.
I believe that journaling is a healthy habit for a few reasons:
simply for the art of writing (which is a bit lost in our digital age)
helps sharpen our minds as we take time to ponder our own thoughts
can aid in the healthy processing of emotions
helps us get our thoughts + feelings outside our body
creates a written legacy of our life
If you're not a writer by nature, start small. This 5 Year Journal is a great tool for those who simply want to jot a few lines on a daily basis. I personally love + use these linen journals, by Emily Ley.
More reading :: What's All This About Journaling?
---
Habit #8: Rest
This particular habit has been a crucial part of creating a sustainable life for myself. After surviving + eventually overcoming a physical + mental breakdown in my late 20s/early 30s, I realized how desperately I needed to create some margin in my life: emotionally, spiritually + physically.
I've struggled with insomnia since childhood, and getting enough sleep is an ongoing challenge for me. But it's something I've learned to prioritize in every way that I can.
More reading :: The Productive Woman's Habit :: Rest
Habit #9: Eat Smart
As a younger woman, I stressed a lot- maybe constantly- over what I ate, what my kids ate, and, yes, what my husband was or wasn't eating. (Sorry, Babe!) As ironic as it seems now, I was so busy trying to eat right that I couldn't even enjoy the process.
It's taken years of "baby steps" for me to arrive at what feels like a healthy, balanced place when it comes to healthy eating (I have a blog series on that topic planned for later this year!).
We all have habits when it comes to food. The important thing is that our food habits are helping us, not hurting us. These days, I've pretty much chucked my old ideas of being a food purist and learned to "eat smart" and- most of all– enjoy the provision of food that God has given, with both gratitude and moderation.
More reading :: "Smart Eating" and Why I'm Not a Food Purist
---
Habit #10: Drink More Water
Yes, we're circling back to water, aren't we?
Depending on what you read, health experts tell us we need to drink anywhere from eight to 15 cups of water per day. Others claim that how much water we need depends on our body size + weight (divide your weight in pounds by half, then drink that many ounces of water daily).
But here's the truth: most of us need to drink more water than we're currently taking in. So start there.
This is a habit I've tried really hard to instill in my kids, as well as myself. The main thing that's helped us all develop a habit of drinking lots of water every day is to have a designated cup to drink out of every day. Then it's easy to just keep refilling your cup with fresh water throughout the day. This works well for days we're home, and days we're out all day (especially those days, in fact).
I like this water bottle from Amazon. It's easy to take with me when I'm out running errands, or I can keep it with me when I'm working in my office or doing housework. My water intake goal is to drink this bottle empty three to four times every day.
More reading :: 7 Easy Ways to Increase Your Daily Water Intake
---
What about you?
Healthy habits for the New Year sound inspiring, but it takes a lifetime to live them well. If you had to pick just 3 of these healthy habits for the new year, which ones would make the list?