2 Easy Things To Do Instead of Not Adulting Today
I feel a little concerned about a phrase that seems to be everywhere:
On social media memes.
Plastered on tee shirts.
Featured in gold letters on our favorite coffee mug.
Maybe you've seen it too?
It's kind of a catchy phrase, and it simply states,
I can't adult today."
That's it.
I can't adult today.
It's witty and cute, and I'm assuming it means something like,
I'm tired of responsibility, so I'm checking out.
Which, of course, is not witty.
And not cute.
Apparently, I was born in the wrong century, because I'm just not a fan of the "I can't adult today" mantra.
I know, I know.
I promised that this post isn't a rant, so I'll spare the lecture.
But I do have a question for all the "unadulting" adults:
Who says you can't?
I don't really remember "can't" being an option.
Not even on the days when life feels too hard.
And, yes, I live those days too.
Who doesn't?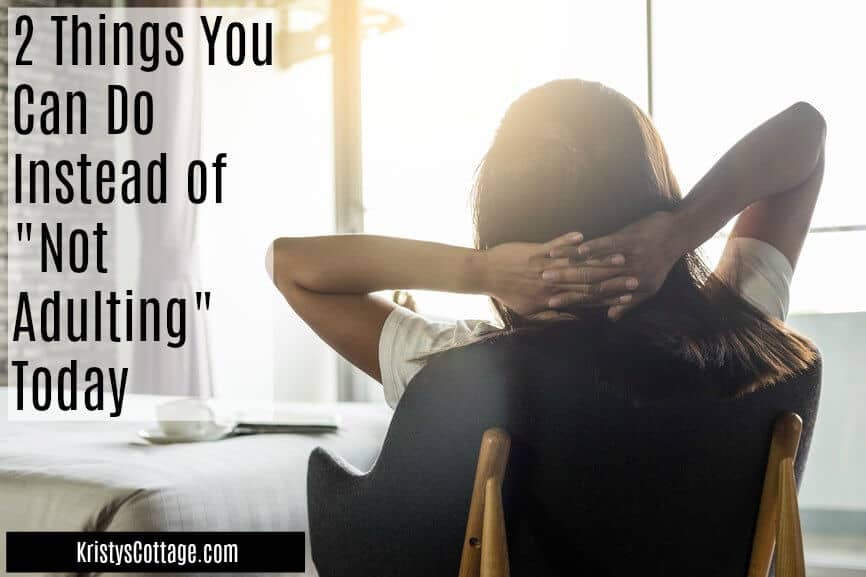 Want to download a printable worksheet to use with this post? Click here for a freebie from Kristy.
Here's the truth: much of life can feel "too hard."
Yes, even for adults.
Instead of that mom-of-a-teenager-sized lecture, I'm going to share something that is hopefully a little more inspiring.
How about a few options for those days that leave us all feeling like "not adulting?"
Here you go-
Two better choices for those days when you feel like "I just can't."
Rest
It's true: adults need rest.
And, if I may restate that:
It's not irresponsible to take a break.
I don't have to tell you that adult life is a lot of daily grind.
Working,
learning,
paying bills,
managing time and money,
dealing with people,
investing in important relationships,
resolving conflict,
raising kids,
maintaining a home and vehicle,
coping with stress,
taking care of health issues…
Maybe you deal with a few or all of these responsibilities.
I know I do.
And I also know that sometimes I get really, really tired of it all.
And just really, really tired.
Not because I don't want to be an adult.
(Because, honestly, this independent woman would rather die of hard work than become a dependent child again. Just saying.)
But sometimes even the most hard-working, responsible adults need to take a break.
Hit pause for a few minutes, or a few hours, or a few days.
Practice the habit of rest.
Sleep.
Play.
Turn off the phone, and tune into life outside of everything we are so busy doing.
Sometimes, we need to just "be."
So that we can keep doing this adult thing called life.
Grow Your Capacity
And what about the times when we can't just hit pause?
Rest is an important aspect of being an adult, but let's be honest:
It's not a one-size-fits-all remedy.
Sometimes, we can't rest.
Sometimes, we have to grow into a new capacity.
This can happen when life pushes all our buttons and stretches us beyond our limits.
We end up doing one of two things:
We either cave in and quit (kind of like "not adulting").
Or we grow, so that we can handle it all (and even more).
At thirty-seven years old, I find myself handling a lot of things I never thought I'd be able to deal with:
I've given birth five times.
Potty trained five kids.
On a weekly basis I maintain a household of seven people, am actively involved in our homeschool community, and support my husband as he serves in his role as pastor of our church.
Fourteen years ago, a diaper blow out on a road trip would have totally ruined my day and set my laundry behind for a week.
These days, I grocery shop with five kids (only when I don't have a choice!) and manage more daily details than I used to think was humanly possible.
(Some days, I still don't think it's humanly possible.)
Does this mean I'm "more mature" or "smarter" or "more capable" than a woman who isn't juggling all my duties?
Of course not.
It simply means that,
[wc_box color="secondary" text_align="center" margin_top="" margin_bottom="" class=""]
Day by day and year by year,
I've grown into new capacities
because my life has demanded it. 
[/wc_box]
I may not possess the same capacities as a woman twice my age, or a mom with a demanding career, or a woman with different life circumstances.
I don't compare my capacities, or my life, with anyone else.
But I do realize this:
When life feels way too hard, it's either time to rest, or it's time to lean into the struggle and allow God to stretch my capacity.
Now, I don't like "the stretch" any more than you do.
It's uncomfortable, it's tiring, and it hurts.
But choosing to grow might be the only way we can really live and love well in this marathon we call life.
Otherwise, we stay small.
Like a child.
Or, like an adult who decides to "not adult" today.
So let me wrap things up with that question I popped at the beginning of this post:
Who says you can't?
I don't know what kind of pressures you're dealing with right now, but who in the world said you're not able to do it?
My friend, you can always, always, always rise to match the circumstances.
And, believe me, I know-
It's completely natural to want to give in and give up.
That's why we need a super natural Strength:
My grace is sufficient for you, for my power is made perfect in weakness. Therefore I will boast all the more gladly of my weaknesses, so that the power of Christ may rest upon me."

II Corinthians 12:9
The next time you're tempted to run and hide-
to quit "adulting,"
I want you to look yourself in the eye and say,
I know it's hard. But quitting isn't an option."
Today may have felt like a good day to "not adult."
And tomorrow may feel that way too.
But in the face of every difficult circumstance,
painful relationship,
and overwhelming challenge,
this question confronts my deepest places of weakness:
Behold, I am the LORD, the God of all flesh. Is anything too hard for me?"

Jeremiah 32:27
Even when life has used up my last drop of energy and strength,
I cannot bring myself to live within the smallness of
emotional, mental, physical or spiritual childhood.
Be watchful, stand firm in the faith, act like men, be strong."

I Corinthians 16:13 (emphasis mine)
I choose to "adult" today because I believe that God has called me to "put away childish things" (I Corinthians 13:11).
I choose to believe that He will do what I cannot do (Ephesians 3:20), if I choose to live into His strength.
Rest in His strength.
Work in His strength.
Just one day at a time.
Here's to living and loving well-
xoxo,
Kristy
[wc_box color="secondary" text_align="center" margin_top="" margin_bottom="" class=""]
Would you like a free printable to use with today's post? I love journaling my thoughts during my daily quiet time, so I created a printable worksheet for you to use along with today's blog post.  You can download it right here.  Don't forget to subscribe in order to receive each new post and download via email.  Thank you for reading here!
[/wc_box]