Our Favorite Book for Family Devotions: Our 24 Family Ways, by Clay Clarkson
Happy Friday!
I woke up to rain (we've been getting a lot of that in Texas this spring), no internet service, and a house full of "organized chaos" (read: garage-sale-prep clutter "organized" into baskets and boxes).
Thanks to my man, we now have internet service again… there's not much I can do about the rain, and the clutter is still a work-in-progress. 🙂
Since we've been digging deeper into our homeschool theme here at the blog, I thought it would be fun to feature some of our family's favorite books over the next few weeks in my Weekend Reads posts. 
Today, I'm highlighting one of our family's top devotional books, Our 24 Family Ways, by Clay Clarkson.
I purchased this book last spring with the intention of using it for our family's evening devotions, but it has worked so well as a morning Bible curriculum.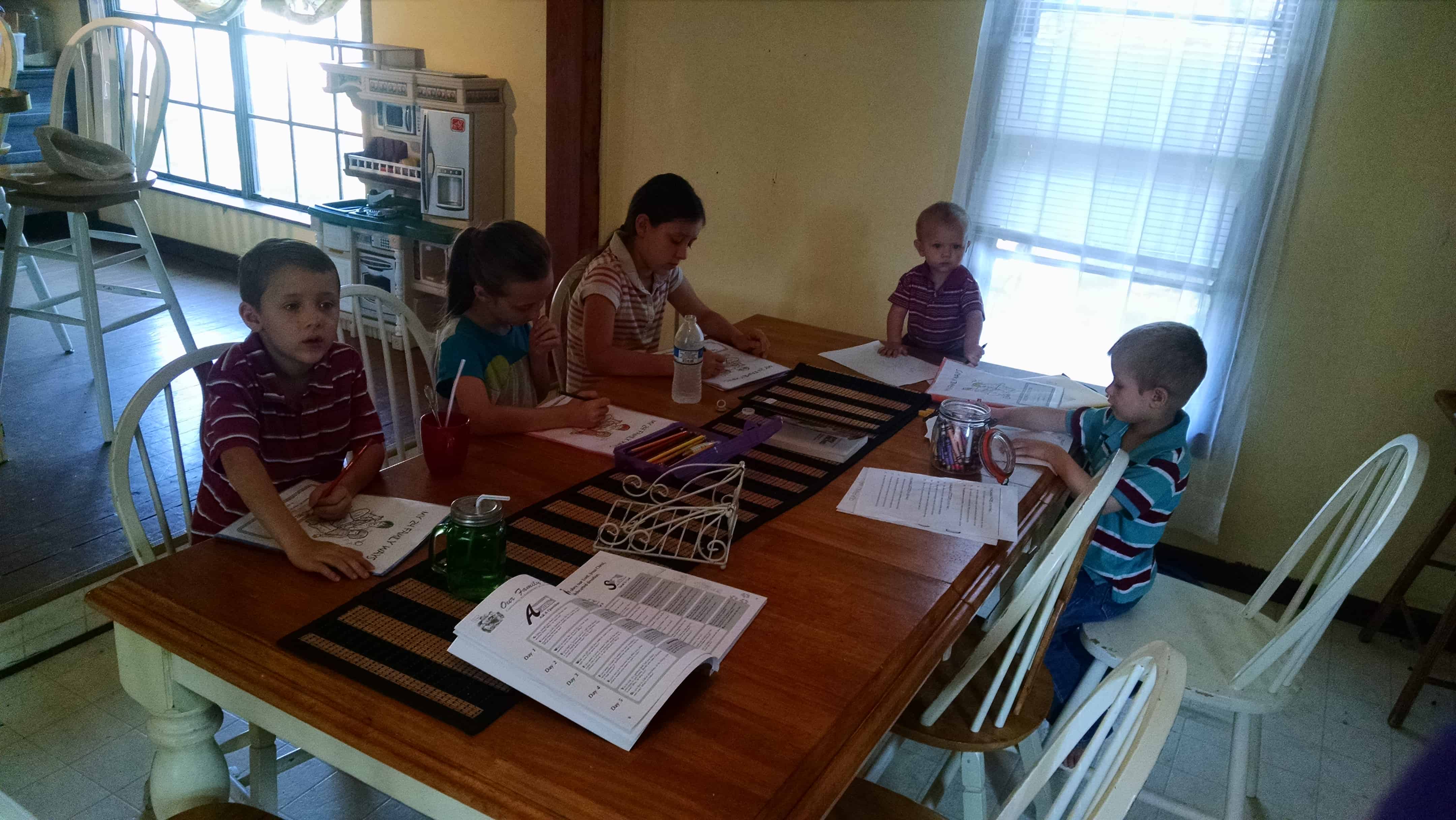 Our 24 Family Ways is designed to be a family devotion resource and includes twenty-four "chapters", with five concise Bible study devotions in each chapter.  It's perfect for a week's worth of family devotions; or, as in our case, a week of homeschool Bible curriculum!
Each chapter covers a "family way" for children to learn.  A few examples are:
Our Family Way #1: We love and obey our Lord, Jesus Christ, with whole-hearted devotion.
Our Family Way #7: We encourage one another, using only words that build up and bless others.
Our Family Way #9: We are thankful to God for what we have, whether it is a little or a lot.
Our Family Way #17: We choose to be joyful, even when we feel like complaining.
Our Family Way #21: We do what we know is right, regardless what others do or say.
The "family ways" are divided into themes, such as our attitudes toward authority, our attitudes toward each other, etc, for a total of 120 family devotions.
Each "family way" includes Scripture memory suggestions, story starters, questions for kids, character quality definitions and a cute picture to color. The language is super child-friendly, and I've noticed the concepts sticking with my children as we've progressed through this book over the past eight or ten months.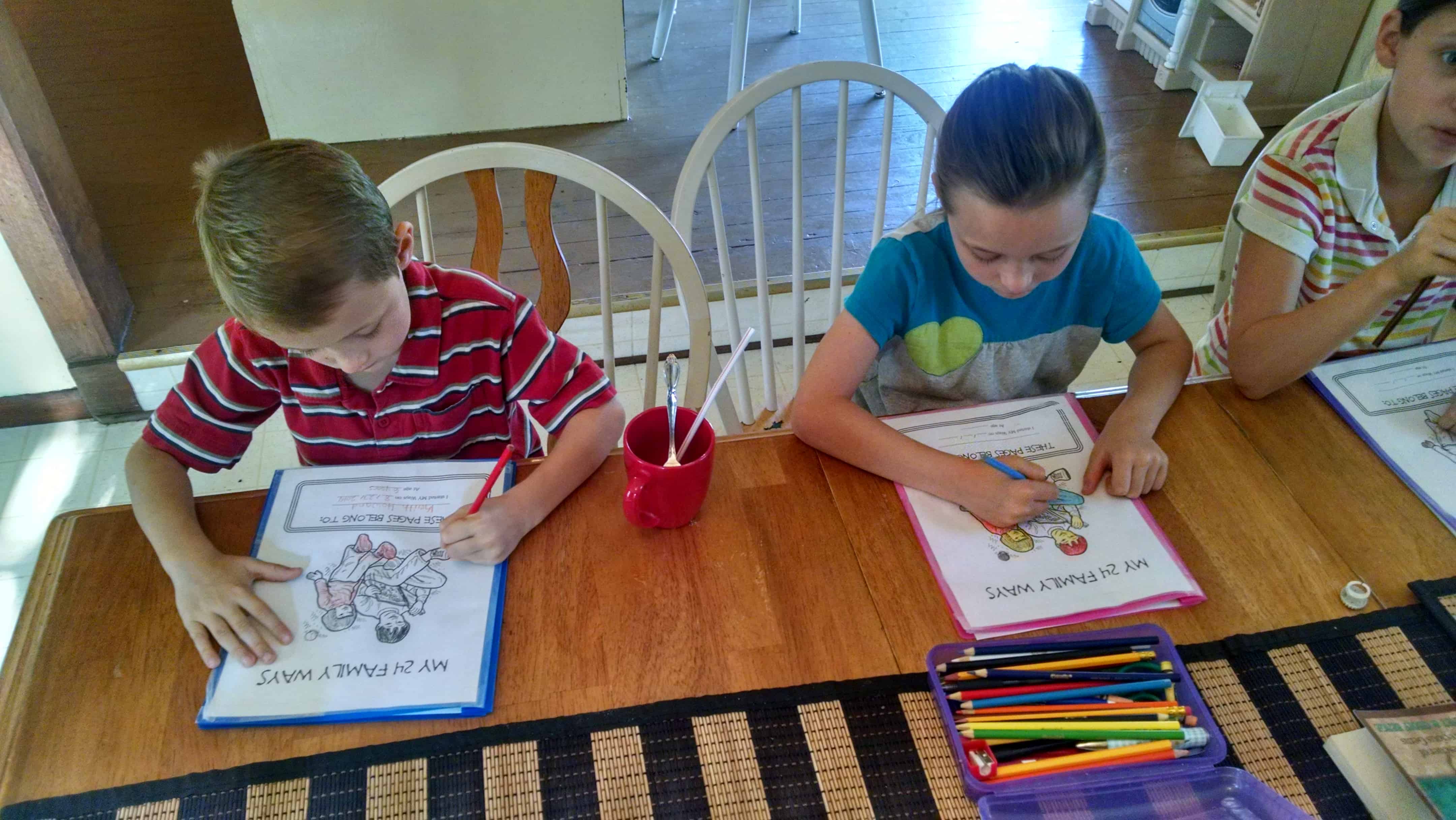 You can make copies of the coloring pages out of the devotion book, or purchase each of your children a 24 Family Ways coloring booklet.  I had a hard time making copies out of the larger book, so I would definitely recommend the coloring booklets.
I am very pleased with this resource and recommend it to other families without hesitation. 
If you're looking for a resource for family devotions, Our 24 Family Ways is engaging and child-friendly, but still challenging and full of Biblical instruction.
I'm giving away a copy of Our 24 Family Ways in our Homeschool Mom Facebook group this weekend… you can join and enter here!
---
Next week, I'll be reviewing a fun book for pre-teens: Unbroken, by Rebekah A. Morris.  (My eleven-year old daughter read this book in about two days!  Definitely a favorite for my horse-loving girl.)
Have a wonderful weekend, friends!