7 Affordable, Plush Lounge Sets for Women
This post: Here's your shopping guide for finding an affordable, plush lounge set (for yourself or someone special).
Nothing suits a winter evening at home – or a cozy weekend away – quite like a plush lounge set. Am I right?
If you're shopping for something luxurious + affordable, I've curated a collection of quality lounge sets + pieces to keep you warm + cozy at home, or on your next getaway. (And I recommend wearing any of these with a pair of fuzzy slides.)
#1 The Lounge Dress
I'm fond of pulling a soft lounge dress over a pair of fleece lined leggings + calling it a day. In the photo above, I'm wearing a soft lounge dress by Lou & Grey (thrift find).

Here's a similar hoodie dress, by Talbots. Available in soft pewter or sand; priced at just over $100.
Athleta has a cozy sweatshirt dress available in black; currently full price ($128).
Or, snag this hoodie dress (also in black + also by Athleta ) off the clearance rack before it sells out.
---
#2 Soft, Wide Leg Pants
If you're looking to piece together your own lounge set, start with a comfortable pair of wide leg lounge pants – chic enough for a casual day running errands, comfortable enough for a relaxed evening at home.

Highly affordable + rated with 4.5 stars, these wide leg yoga pants from Amazon are an extremely budget-friendly choice. They're available in lots of colors + sizes, and currently have a 15% off coupon.
These "soft blend" pants, by Lou & Grey come in classic black + navy, and are moderately affordable. Pair them with this terry sweatshirt, also from Lou & Grey (40% off with code FRESH).
Looking for something a little more luxurious? Check out these oh-so-soft cotton/cashmere wide leg pants by Talbots. They come in three gorgeous pastels, and pair beautifully with the brand's matching cowlneck pullover.
---
#3 Classic Leggings
If you prefer leggings over wide leg pants, here are a few cozy pieces to consider for your lounge collection:

These ThermaJane fleece lined leggings have over 35K customer reviews + are a top seller on Amazon. Priced at just under $30, they make a highly affordable loungewear piece.
Lou & Grey has a pretty pair of side pocket leggings right here. The navy + black are still full price (about $60), but save 40% on the red or cobalt with promo code FRESH.
Tabot's soft rib leggings are available in four, subtle pastels – and at a surprisingly affordable price ($58).
---
#4 The Oversized Sweater
Pull an oversized sweater over your leggings or lounge pants + you're ready to go (or stay home). Here are a few beautiful + cozy pieces to consider:

Here's an Amazon deal – this oversized, crewneck sweater is delightfully sophisticated + currently on sale. (It's available in so many colors!)
If you're looking for something a bit more athletic, take a look at this cozy, oversized sweatshirt (by Lou & Grey). It's currently 40% off (use code FRESH) + is only available in vivid clementine.
Talbots brand is known for its sophisticated pieces, and the oversized lounge tops do not disappoint. Snuggle up in this organic sweater, or chase away the winter blues in this velour corduroy pullover.
---
#5 The Romper
Rompers are just as comfy as dresses, but a little warmer + easier to move around in. Take a look at these plush lounge sets:

This dreamy V neck romper (by Athleta) looks so comfortable. The sugarplum mauve is clearanced at under $20 (but only available in size medium); the black, burgundy, + sardina blue are available in all sizes + priced at just $64.
Lou & Grey's soft, longsleeve Henley jumpsuit is pretty enough to wear out of the house! It's currently available in all sizes in deep space blue; full price is $98.
This Beyond Yoga Jersey jumpsuit by Talbots is the perfect blend of chic + practical. It's sleeveless, so throw a soft cardigan over it on a winter day + you're ready for a cozy day in.
---
#6 The Jogger Lounge Set
Need something practical + comfy? Check out these cozy jogger lounge sets:

Here's a bestseller from Amazon – crewneck pullover top + soft jogger pants. Available in over 25 colors + priced at just $25 – $32.
This sherpa sweatshirt + jogger pant set (by Adore Me) comes in pretty purple, green, + cream.
Grab a pair of these soft, hooded jogger sets from Nordstrom for just $74. Available in navy or pink stripes.
---
#7 The Sexy Plush Lounge Set
For a sexy but comfy weekend at home or away, enjoy one slipping into one of these pretty sets:

This flirty lounge set (by Adore Me) features a cropped top + comfy, flared pants. This one is lightweight + suitable for warm weather or climates. (Beach vacay, anyone?)
Amazon has a similar set, just slightly warmer for colder weather.
This satiny set (by Adore Me) has rave reviews! It comes in classic black or white, as well as four beautiful jewel tones. The top is sleeveless with a V neckline, and the pants have feminine ankle cuffs + side-slit details.
---
About those fuzzy slides
I've been eyeing the pillow slides, or cloud slides, trend for a while now – but couldn't bring myself to drop $70 or $80 on a pair of house shoes – because this girl isn't wearing them out!
I found these little beauties on Amazon for just $11.99! They are every bit as cute + comfy as the pricy pairs I saw at Nordstrom. And so affordable.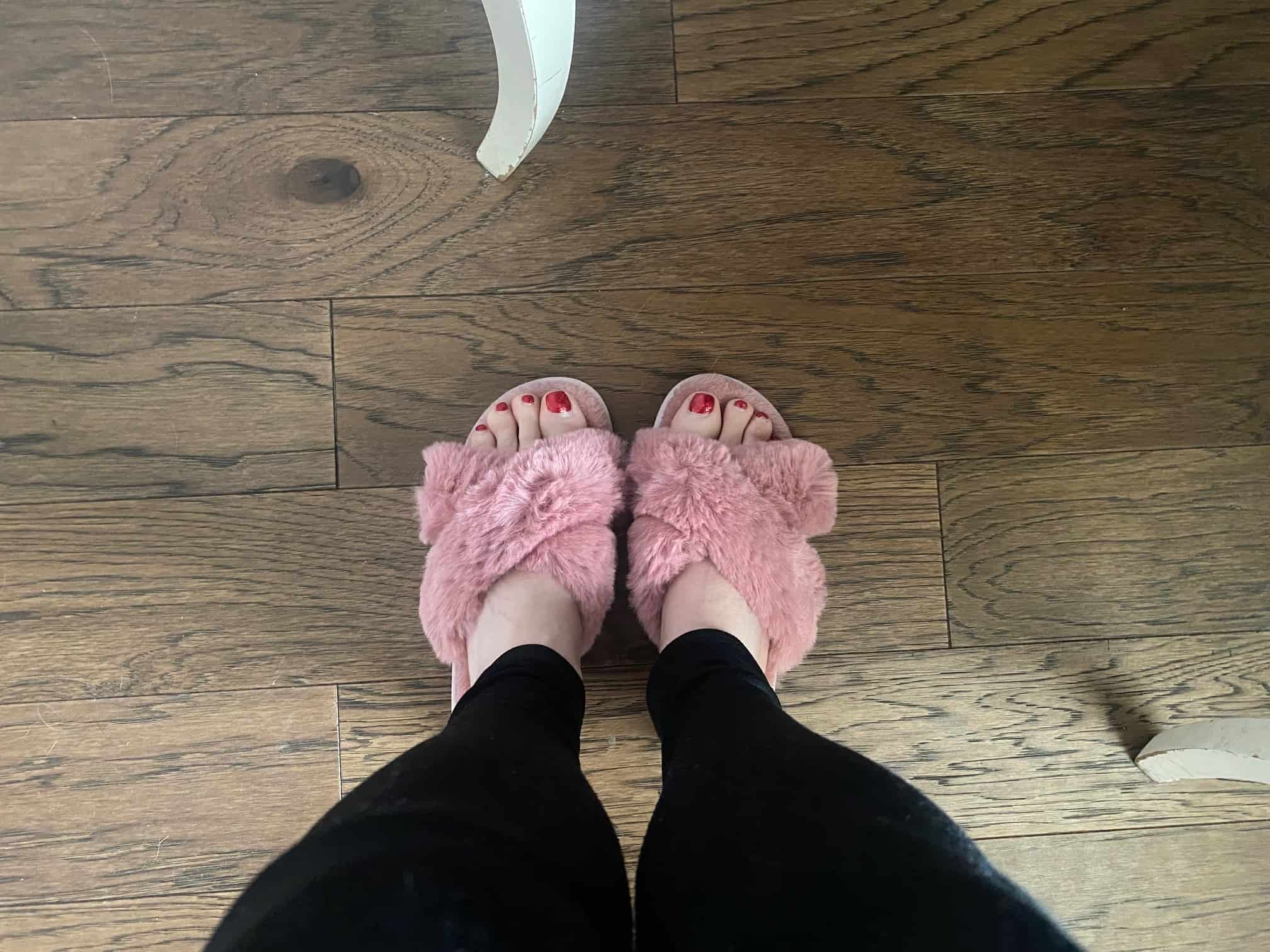 They're available in lots of colors – of course I bought pink. I'm impressed with the quality + comfort + expect to get lots of wear out of them.
What about you?
Are you a fan of loungewear? (Furry slides?)
Let me know what you look most for in loungewear: quality? affordable price tag? comfort?