Here is the follow-up for yesterday's post.  If you've ever wondered about the pro's and con's of making your own laundry detergent, here are my  honest confessions! 
I originally wrote this post back in March 2011, and the facts still stand!
After the bir
th of our second child (in 2006), money was tight.
I began researching all I could find on frugal living in order to save money any way I could.  Much to my surprise, I discovered that some people still used cloth diapers, ground their own flour, and even made their own laundry soap!
I slowly began implementing much of what I learned, and ended up with this budget (which we adhered to for several years).   Making my own laundry detergent was one of many things I did to help stretch our budget.  I loved it! 

In more recent years, I discovered an all natural company (Melaleuca) and switched to their eco-friendly, all natural laundry products.

Having been on both sides of the fence, here are a few good (and not-so-good) things about homemade laundry soap: 


It's CHEAP!  Seriously, at a penny or so per load, you simply can't beat homemade detergent!  The savings were an incredible factor for me.  
It's simple to make.  I mixed together a double batch (about 5 gallons) every month or two (or three).  It took less than twenty minutes of my time and lasted for weeks.  Needed ingredients: Borax powder, washing soda,  soap (such as Zotes soap or Fels Naptha), and water.  Easy peasy!
It's eco-and-allergy-friendly.  If you suffer with skin allergies, then you're probably already aware of the harsh chemicals and perfumes present in most all of the "store brand" detergents.  When you're making your own detergent, you know exactly what is and isn't in the mix.  My husband and all of our children have very sensitive skin; our homemade laundry soap never caused irritations or rashes.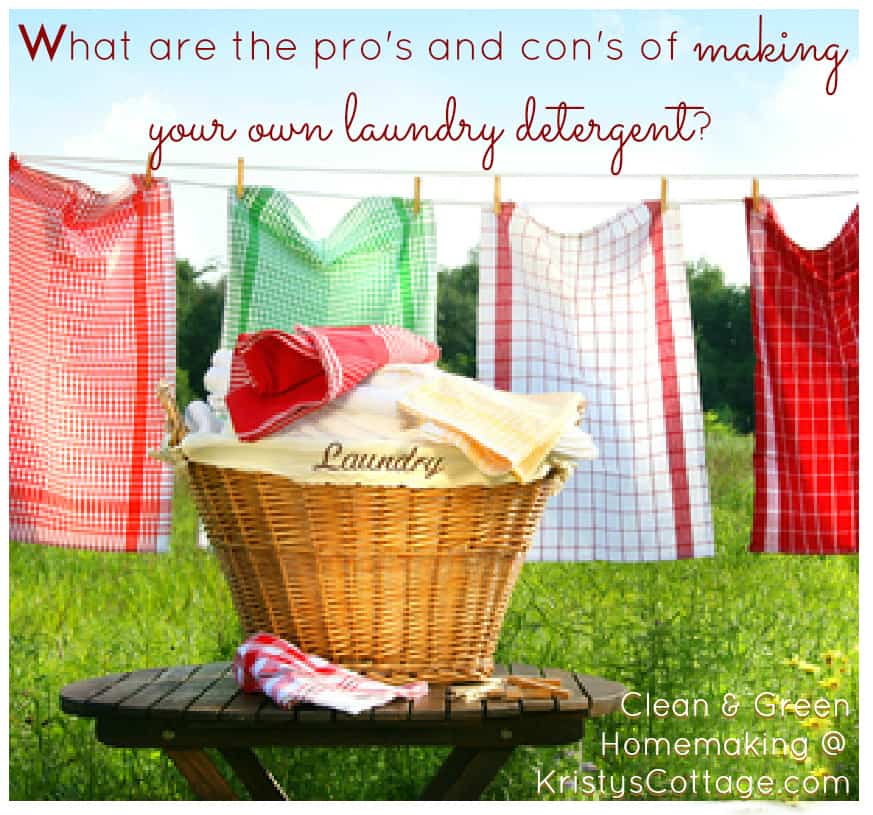 As fabulous as homemade detergent is, I discovered a few draw backs along the way:




Sometimes it simply doesn't cut the stains.  Over time, I found our "whites" were less "white" and our clothes started looking a little dingy.  I had to use a lot of Oxi Clean for difficult stains; they simply didn't come out in the wash.  With small children (and a hard working husband!) in the home, I need a killer stain remover!   
The ingredients weren't always easy for me to find.  Borax is widely available, but washing soda can be difficult to get your hands on (especially if you live in a small community with limited shopping).  I found that larger Wal-marts carry all the products needed for homemade detergent, but I haven't always lived near a bigger Wal-mart. 

Amazon

is a good place to shop, if you prefer online shopping. 🙂   
Is Borax good for you?  While it has been tauted as a natural laundry booster for decades, Borax as a "safe" household product is widely debated.  While it's true that borax is natural, it does contain a certain level of toxicity.  So is it okay for your family's laundry?  That's up to you.
—————
admittedly, I switched back and forth between my homemade laundry detergent and Melaleuca's powerful but eco-friendly laundry products for a while.
Eventually, the need to simplify and free up my time and energy won over the need to pinch pennies, and I haven't made my own laundry soap in several years.  
The savings of making your own laundry soap is pretty unbeatable, if you don't mind the small time commitment of the DIY kind. 
If you want to keep your laundry looking it's best (who wants dingy underwear?), consider pairing the homemade stuff with a powerful stain killer.  This tango will likely keep your "whites" white, and your pocket book happy. 🙂
  
About the Author
Latest Posts
Kristy Lynn is a wife, mom, content creator, + modern homemaker from the Fort Worth area. Unless she's lost in a pile of books (or dirty laundry), you'll likely find her writing, over-thinking, or chauffeuring her kids somewhere. Kristy hates sleeping + cooking. (Necessary evils.) However, British accents, old churches, hiking trails, and debates never fail to entertain. She accidentally buys too many clothes and finds typos everywhere. Connect with Kristy on FB + IG @simplykristylynn.