4 Simple Things I Try to Remember On the Fall Apart Days
This post: things to remember when I'm falling apart.
Some days it feels like I'm falling apart.
Days like today.
Two weeks ago, my precious Meme went to Heaven.
We laid her to rest on a Friday.
I more or less fell apart that Saturday, and put on my brave-pastor's-wife face for Sunday.
Then the week met me, with it's needs, emotions, and unfinished tasks.
Nothing in my world pressed pause, even though everything inside me felt like it was coming to a crashing halt.
Have you ever felt that way? 
Like life keeps coming at you with it's demands, even when you have nothing left to give?
Some seasons I feel like I'm creating the waves, and pushing the momentum forward.
And then there are these times, when I feel like I'm just happy I'm not drowning.
Even when I'm unraveling inside, my kids still want to eat… want to wear clean clothes… want to feel loved…
Want to feel that sense of normalcy that happens when they wake up on a weekday morning, and Mom is clothed and in her right mind. 🙂
On the days when my emotions are unraveling for one reason or another, there are a few things I try really hard to focus on. 
Not to suppress emotions, or keep up a facade.  (Those are very unhealthy habits, which I've learned to unlearn.) 
But to keep my heart and mind grounded while I keep on doing the things that have to be done.
I thought I'd share these four things with you today, in case you ever face those fall-apart-days too.
When I'm Falling Apart, Just do the next thing. 
Last week, that meant cleaning the house after many long road trips, a funeral, and a houseful of family.
It also meant wrapping up some loose ends on our homeschool schedule, and getting the school year officially rolling.
It meant tedious things like buying cat food, cleaning the vehicle, and going to the grocery store.
All those "next things" are actually ways of loving my family well.
Knowing that helps bring some eternal purpose into the mundane, especially when I don't emotionally feel "up" to it.
When I'm Falling Apart, Simplify and prioritize.
I tend to feel really overwhelmed when I have A LOT to do, and only a little emotional energy or time to do it.
So I have to cut some things out, or plan to do some things later.
Important, family needs come first.  (The "next thing" things.)
Once I get my bearings, I can start tackling the extra stuff.
Prioritizing spares me the agony of having a melt down because I feel overwhelmed.  
(Trust me, that is not a pretty picture!)
It also gives me a little breathing room because I know I'll work my way through that long list of needs, eventually.
When I'm Falling Apart, Recharging Isn't Optional.
In some seasons of life (like when my kids were babies and I was getting no sleep), recharging meant sleeping in and napping whenever I could.
These days I'm raising a young teen, and four younger school-age kids.  So I recharge a little differently.
On a typical day, a hot bubble bath and a good read before bed usually does the trick.
In intense times of stress (or loss, like I'm experiencing right now), I tend to need some extra time alone.  
(There are so many thoughts and emotions for an introvert to process.)
Date nights with my husband are a big reprieve, especially since we've come to a really safe and healthy place in our marriage.
Keeping my mind grounded in Scripture is really important when emotions are running high (or low, as the case may be).
It isn't always convenient or productive, but I've learned to be intentional about emotionally and physically recharging.
I firmly believe that this is a really big part of living a sustainable life as a woman.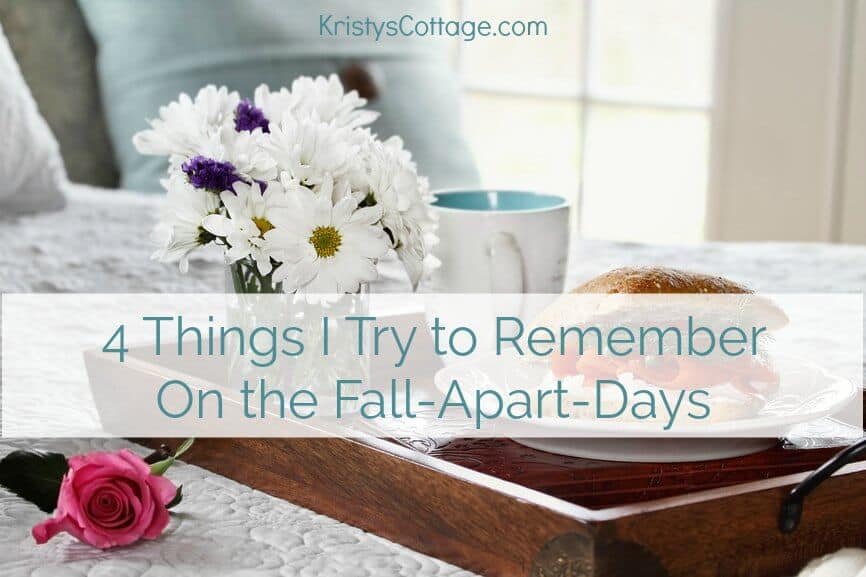 Lastly, I try to remind myself that
This will Get Better. 
I've never walked through a valley that didn't eventually lead my steps upward, toward another mountain top.
The valleys aren't forever, and neither are the heavy emotions or difficult days.
Every valley has its treasures.
Living well through these valleys is how we gain life experience, empathy, wisdom… and gray hairs. 
I was blessed to have my MeMe for these thirty-six years.
Blessed that I still feel and see her touching so many parts of my life.
Sometimes the memories feel comforting.
Sometimes they remind me of much deep loss.
Today, I'm choosing to live with gratitude and purpose, even when some days I'm not sure if I'm really okay.
Trying to love well through another changing season of life.
Trying to learn the lessons that I can only learn here, in this place.
One last thing we would all benefit from remembering:
There is abundant grace for every new day.
The keep-it-together-days, and the fall-apart-days.
Here's to living and loving well! xoxxo