3 Things to Love About Virginia Dare Dress Company
This post: Kristy's honest review of Virginia Dare Dress Company. (Looking for a promo code? Save 10% when you use KRISTY10 at check out.)
Confession: I'm always in the market for a new dress.
I love fashion, and wear everything from cropped jeans and linen tees to peplum tops and designer shoes. But dresses are my jam.
I honestly can't remember how I stumbled upon the brand, Virginia Dare Dress Company, but one autumn afternoon I found myself gazing at their beautiful website. Intuitively, I knew I'd be a lifetime customer.
Per usual, I window shopped for a few weeks before I actually ordered my first dress.The "Emma" in admiral blue was my first real introduction to the brand, and I'm now a repeat customer.
Here's why:
Femininity
By nature, I'm a feminine woman. I love pearls and perfume, dresses, chandeliers, and roses. My grandma awakened in me a deep affinity for womanhood from a young age, and I enjoy dressing like one.
Every piece from Virginia Dare Dress Co is a feast of tasteful femininity. The brand truly celebrates all the goodness and beauty of being a woman.
I appreciate the brand's tribute to the varied lifestyles and preferences of uniquely feminine women from every season + walk of life.
Vintage-Inspired
Did I mention that I'm also an old soul? Being a history buff, I immediate recognized the significance of the name, Virginia Dare– the first English child born in the New World (1587). Admittedly, I was more or less hooked by the historical significance of the brand. I mean, only a truly intelligent soul will create a historically-inspired name like that, am I right?
The dresses themselves are delightfully inspired by the past, in the most timeless of ways: A-line silhouettes, flutter or puffed sleeves, French-designed florals, figure-trimming waistlines, and twirly skirts that skim the knees.
If you've ever pinned for a Jane Austen or Audrey Hepburn inspired life, look no further!
Quality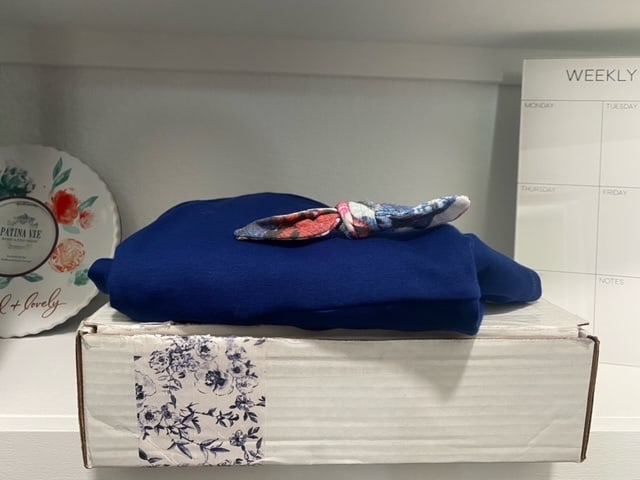 Workmanship, of course, is in question any time a new brand is being explored. Virginia Dare Dress Co does not disappoint.
From the first admiral blue "Emma" dress I opened on Christmas Day (a gift from my husband) to my summer purchases of the "June" and "Chloe" dresses, I've been impressed by the superb quality of each Virginia Dare dress.
The workmanship shows in how well the dresses drape over your body, how they wash and wear, and simply in the luxurious feel of the material as you wear them.
I own a variety of "accessible luxury" brands (Kate Spade, Michael Kors, etc), and I feel that Virginia Dare Dress Co holds its own in terms of design and quality. I'm happy to invest in the brand and wear the designs, and to encourage other women to do the same.
Other Perks
Virginia Dare designs and sells more than dresses: as I already mentioned, the brand offers a lovely peplum blouse, available in a variety of colors. You can also shop for seasonally changing accessories (I own both their leather belts and several hair ties); books, cosmetics, and jewelry; and a fabulous selection of unique boxed gifts (my friends and family love receiving these).
Their size guide runs consistently true-to-size. I'm typically a misses dress size six, and always get a perfect fit from this brand in a size medium. Most of the dress designs are available in sizes xsmall to xlarge.
Oh, and I can't forget to mention- the brand always offers free shipping and returns. I haven't had to return anything yet, but free returns is a perk to look for any time you're shopping online.
Shop
Take a look at Virginia Dare Dress Co's website and let me know what you think.
Feminine enough? Vintage-inspired enough?
You'll have to order a dress or blouse to try out the quality. *wink* But first grab this promo code + save 10% off your entire order: KRISTY10
There's no expiration on that code, and it can be used as many times as you like. Go ahead + bookmark this page for later, or jot down that code so you'l remember: KRISTY10 saves you 10% at Virginia Dare Dress Co.
Let me know
Are you a fan of Jane Austen/ Audrey Hepburn/or other feminine, iconic styles? What would you love to wear from the Virginia Dare Dress Company website?