3 Things To Know About Thank-You Notes For Graduation Gifts
This post: tips for sending thank-you notes for graduation gifts.
I graduated from high school in 1999.
Aside from being the very last graduating class of both a century and a millennium, there's something else notable about my generation:
We very well may have been the last generation who practiced one of the cardinal laws of etiquette:
Sending thank-you notes for graduation gifts–or any other gift, really.
My grandma ingrained this habit into my life at a very young age:
When one receives a gift, one reciprocates with a thank-you note.
(In hindsight, my grandma just might have been personal friends with Emily Post. It's a conspiracy theory that I still ponder to this day.)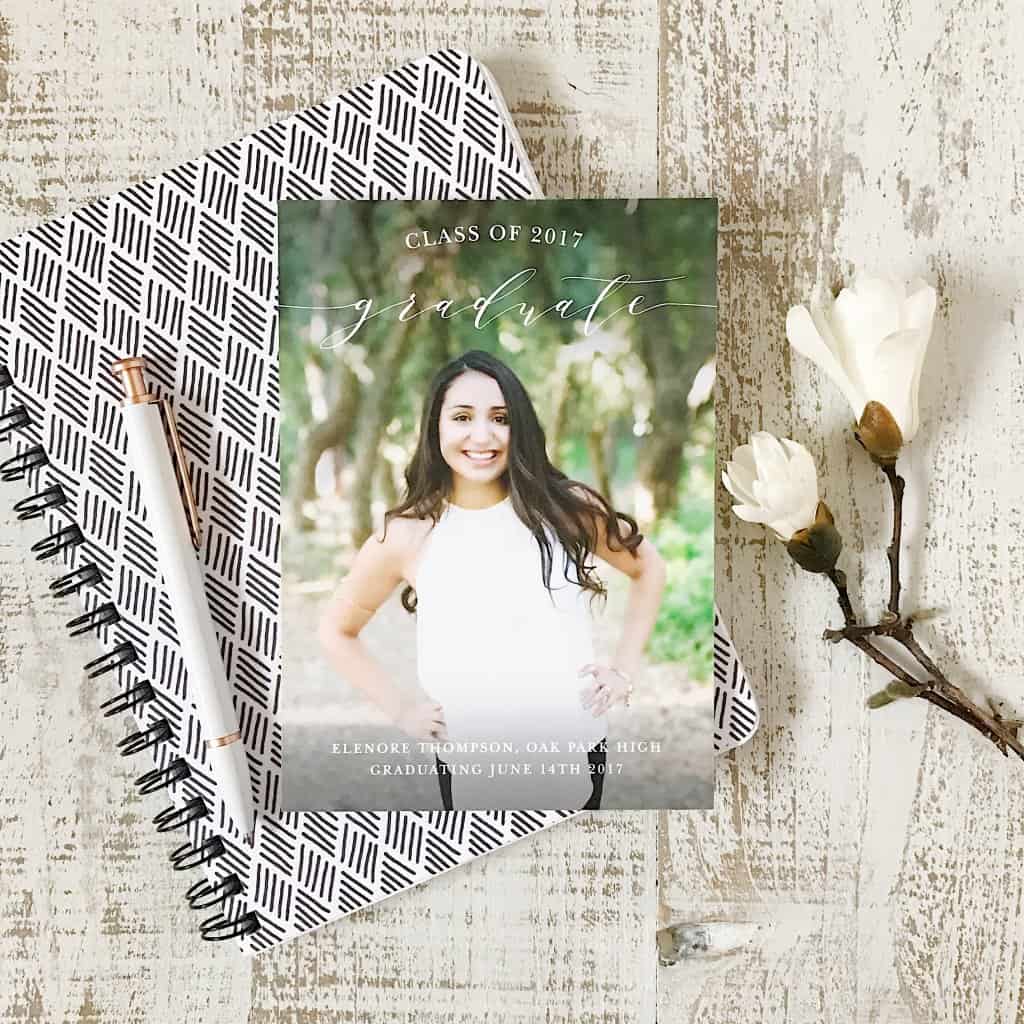 Graduation season is approaching and, yes: I'm aware of how terribly different this academic year has looked for our seniors.
I do know this:
People who love our grads are going to shower them with cards, cash, and gifts.
You may also like: 15 Inexpensive High School Graduation Gift Ideas for Her.
So take it from a woman from another another century: having a stash of thank you cards, and showing our sons and daughters what to do with them, really is a big deal.
I have faith that our graduates will stand out a little this year, with etiquette that would make even Emily Post proud.
Here are three things our grads need to know about sending a graduation gift thank you card.
#1 The note needs to be handwritten.
There are times when an email will suffice in place of thank-you notes, but graduation is not such an occasion. Thank-yous need to be handwritten, and ideally by the graduate.
(I'll let you boy moms make the final call on that.)
#2 A thank-you note is appropriate in return for both cards and gifts.
Emily Post says: "Send a note to anyone who sends a present or card with a personally written message to acknowledge an accomplishment, such as a graduation."
So even if Uncle Henry sends a heart-felt card that's void of cash, drop him a thoughtful "thank you" any way- something like this.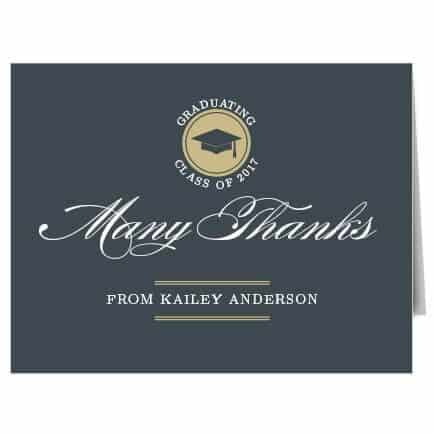 #3 Send your graduation thank you
promptly.
The rule-of-thumb for special occasion and celebratory gifts is this:
"Write thank-you notes as soon as possible, preferably within two or three days."
Of course, a late thank-you note is better than no thank-you note.
Where to Buy Thank-Yous & More?
If you're looking to buy
–thank-you notes for graduation gifts,
–high school graduation announcements
or college graduation party invitations,
let me recommend Basic Invite as your go to source.
Admittedly, I love this company because they create really beautiful custom announcements, invitations and cards.
(Another trait I inherited from my grandma is my love of stationery!)
Here's a peek at customized note cards Basic Invite sent me. Aren't these lovely?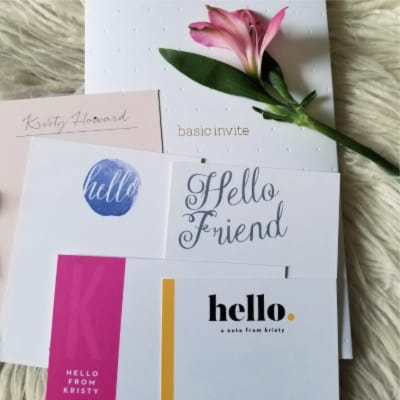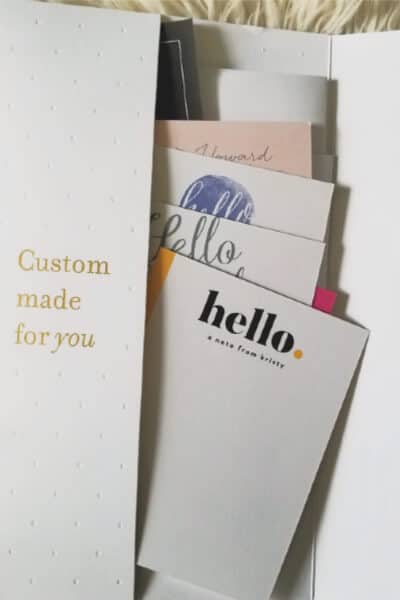 Aside from the fancy paper and pretty designs, there are lots of practical reasons to shop Basic Invite for your graduation needs:
—> Custom Samples. Basic Invite is one of the few websites that will allow you to order a printed sample before you place the final order for your announcements or cards. If you don't think your card is perfect, keep tweaking!
—> Nearly Unlimited Colors. This company offers over 180 colors to choose from, and you can customize nearly every element of a card design. This feature sets Basic Invite apart from just about any other online stationery company.
—> 40+ Envelop Colors. While you're customizing your announcements and matching thank-you notes, go ahead and pick an envelop that matches perfectly.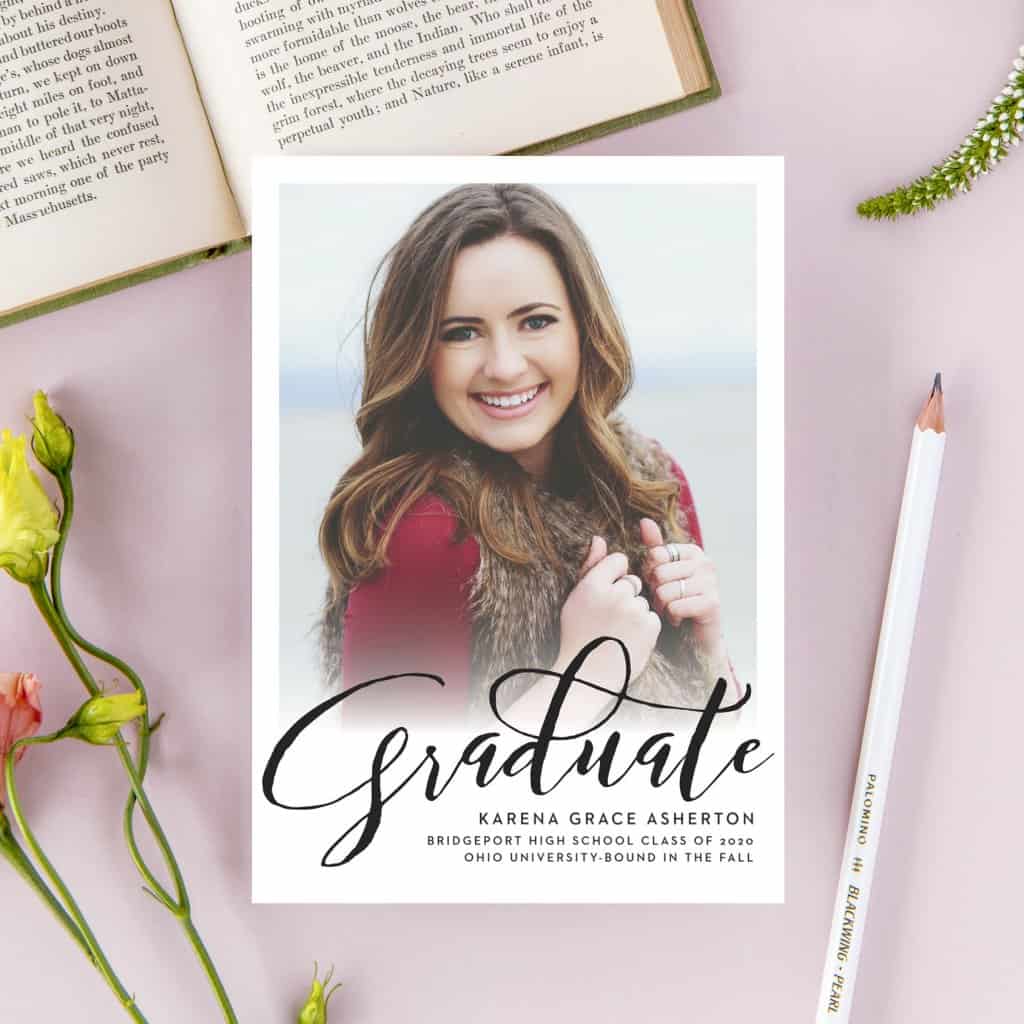 —> If you like a more formal announcement, foil cards are available in gold, silver, and rose gold. (And you can choose flat or raised foil on all of Basic Invite's foil designs.)
—> Address Capturing Service– Basic Invite offers an address capturing service that allows you to share a link on Facebook, Twitter, Instagram, or any other social media to request your friends and family's addresses. The addresses are stored in your account and can be selected during the design process. The really great news: Basic Invite will print your addresses at no cost on all card orders!
Right now Basic Invite is offering 15% off with coupon code: 15FF51.
Take a look at Basic Invite's graduation announcements, invitations and thank you cards and be sure to follow their social media sites: @basicinvite.
My gentle advice to you mamas with a Graduate…
Spare yourself some extra stress (you've both already had enough!) and let Basic Invite handle the details for you.
They won't write the thank-you note for you, but they will address the envelopes.
I think Emily Post would approve.
Your Turn
Do you send thank-you notes? Why or why not?